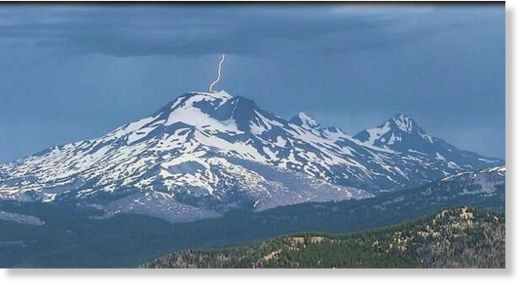 Thunderstorms rolled north through Central Oregon Sunday afternoon, accompanied by 3,400 lightning strikes that had crews scrambling to hit dozens of new, mostly small fires across the region -- some threatening homes on the Warm Springs Indian Reservation. A Klamath County fire grew to 600 acres and burned structures.
About 3,400 lighting strikes pelted the region between early Sunday morning and the evening hours, resulting in 65 smoke reports by early evening to the Central Oregon Interagency Dispatch Center in Prineville, said spokeswoman Jean Nelson-Dean.
Nearly half of those resulted from an intense late-afternoon thunderstorm that rolled through the Ochoco National Forest and Prineville District of the BLM, as well as private lands in Crook County, she said.
The largest new fire in Central Oregon was burning at the extreme southern end, four miles northeast of Cabin Lake, near Forest Service Road 18, about three miles north of the Klamath-Deschutes County border.
That fire was estimated at about 40 to 60 acres, with five engines, a 20-person crew and a water tender working the fire, along with a pair of single-engine air tankers (SEAT planes) making retardant drops.