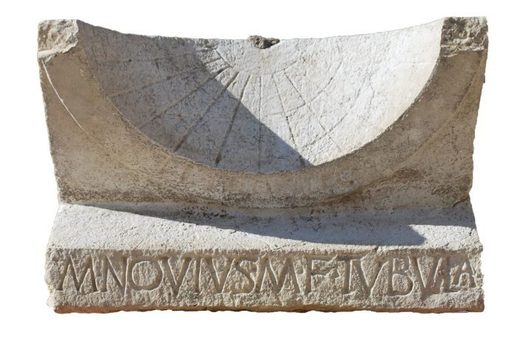 A 2,000-year-old intact and inscribed sundial - one of only a handful known to have survived - has been recovered during the excavation of a roofed theatre in the Roman town of Interamna Lirenas, near Monte Cassino, in Italy.
Not only has the sundial survived largely undamaged for more than two millennia, but the presence of two Latin texts means researchers from the University of Cambridge have been able to glean precise information about the man who commissioned it.
The sundial was found lying face down by students of the Faculty of Classics as they were excavating the front of one of the theatre's entrances along a secondary street. It was probably left behind at a time when the theatre and town was being scavenged for building materials during the Medieval to post-Medieval period. In all likelihood it did not belong to the theatre, but was removed from a prominent spot, possibly on top of a pillar in the nearby forum.