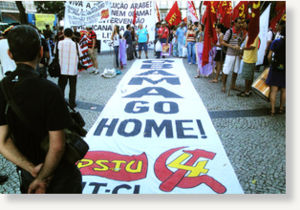 A molotov cocktail was launched in front of the US consulate in Rio de Janeiro late Friday in protest of the arrival of President Barack Obama, the
O Globo
newspaper in Rio reported. Military police reacted by firing rubber bullets into the gathering of 200 at around 18:30 local time. A CBN news reporter suffered a minor injury from the shots and traffic was blocked.
"They came after us with clubs and tear gas and attacked," according to protestor Thiago Hastenheiter. "They chased us through the streets and started firing rounds of rubber bullets."
Police major Fabio Alessandro of the 13th Batallion of Rio's military police said that the protestors, all left leaning social movements associated with the Socialist Workers Party, PSTU, did not have a permit to protest near the consulate along Avenida Rio Branco and had refused to disperse from the area. They wore the ubiquitous Che Guevera T shirt and carried American flags that said Go Home Obama. Most of the protests had been peaceful until two home-made molotov cocktails were let loose in the direction of the Consulate. A guard at the Consulate was partially burned and was sent to the emergency room at Souza Aguiar Hospital.
Fourteen protestors have been arrested.