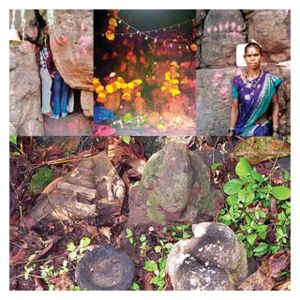 A 45-year-old tribal woman, on Monday, found seven idols of Hindu goddesses in a cave on the Khapra hilltop in Lakhampur village of Wada taluka. She said she went to the cave and started digging inside after repeatedly dreaming of a goddess trapped there.
"For the last three months, I regularly dreamt of some divine powers calling me to rescue them from the hilltop but I ignored the dreams. However, it soon started to affect my health and I eventually decided to follow my dream," said Usha Mukne, a daily-wage labourer in the village and a believer of Goddess Santoshi.
Mukne cleared the entrance to the cave, which had been blocked by trees as no one had gone there in a long time, and started digging.
Villagers hailed her dream-turned-into-reality as a miracle and blessing, especially as it coincided with Navratri, and thronged the hilltop to pray.
"I told the locals about my dream and findings. They couldn't believe goddesses had directed me this way," she said.
A local, Sunil Patil, said, "It's the first time that ancient artifacts have been found here."
Local authorities were also informed; they will inform the archaeological department.