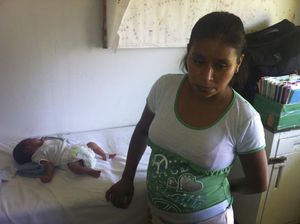 Mexico officials have suspended a health center director after an indigenous woman denied entry to his clinic was forced to give birth on the lawn.
The state government in the southern state of Oaxaca says Dr. Adrian Cruz has been suspended during state and federal investigations.
A photograph of a woman grimacing in pain with a newborn child still bound by the umbilical cord horrified Mexicans in a country where many poor women still die in labor.
A nurse kicked 29-yearold Irma Lopez out of the clinic Oct. 2, claiming she was "still not ready" and had to wait for a doctor. After an hour and half, Lopez gave birth while grabbing the wall of a house next to the clinic.
Officials announced the suspension on Wednesday.