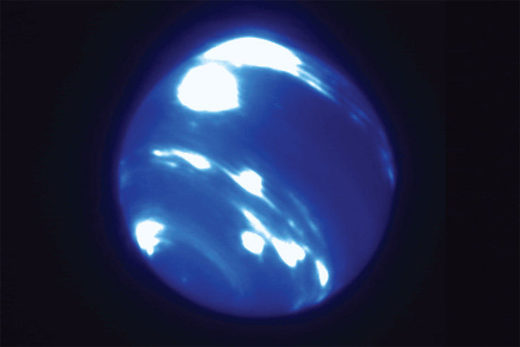 Spectacular sunsets and sunrises are enough to dazzle most of us, but to astronomers, dusk and dawn are a waste of good observing time. They want a truly dark sky.
Not Ned Molter, a UC Berkeley astronomy graduate student. He set out to show that some bright objects can be studied just as well during twilight, when other astronomers are twiddling their thumbs, and quickly discovered a new feature on Neptune: A storm system nearly the size of Earth.
"Seeing a storm this bright at such a low latitude is extremely surprising," said Molter, who spotted the storm complex near Neptune's equator during a dawn test run of twilight observing at W. M. Keck Observatory on Maunakea, Hawaii. "Normally, this area is really quiet and we only see bright clouds in the mid-latitude bands, so to have such an enormous cloud sitting right at the equator is spectacular."