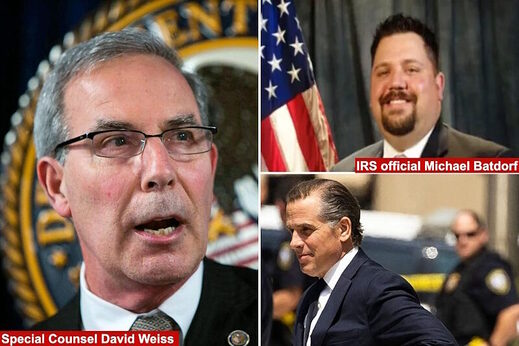 Two more IRS officials have
come forward
and detailed how now-Special Counsel David Weiss was "
not the deciding person
" over whether to charge President Biden's son Hunter with
tax crimes
— contrary to sworn testimony from Attorney General Merrick Garland.
IRS Director of Field Operations Michael Batdorf and DC IRS Special Agent in Charge Darrell Waldon detailed how Weiss' probe was thwarted in recent testimony before the House Ways and Means Committee, transcripts of which have been reviewed by
The Post
.
Garland has repeatedly insisted to lawmakers — most recently on Wednesday before the House Judiciary Committee — that Weiss, the US attorney for Delaware, had "full authority" to bring cases against Hunter Biden anywhere he wished and that Garland would not personally interfere in the probe.
However, Batdorf told lawmakers during a Sept. 12 transcribed interview that the Justice Department's Tax Division would have also had to sign off on any charges that Weiss wanted to pursue.
IRS whistleblowers Gary Shapley and Joseph Ziegler have publicly detailed concerns about the Hunter Biden investigation.
"[M]y understanding would be that DOJ Tax has to authorize it first," recalled the 22-year veteran of the tax collection agency. "So, I mean, my understanding is that, I mean, he can't make that [charging] decision without DOJ Tax authorization."
Batdorf recalled sitting in on a June 2022 meeting involving Weiss, IRS criminal investigators, and FBI officials at which DOJ Tax personnel pushed back against charges for the first son — at the same time they were holding conferences with Hunter Biden's legal team.
When asked how many times the two sides met, Batdorf could not recall specifically, but said there had been "more than two" meetings and possibly as many as four.
IRS Director of Field Operations Michael Batdorf appeared to refute claims that the IRS whistleblowers were reassigned due to retaliation.CPA Academy
"Is it typical in a tax investigation to meet with defense counsel two, three, four times?" Batdorf was asked, to which he answered: "No."
Batdorf also said he had signed off on a report recommending felony and misdemeanor tax charges dating back to 2014 against Hunter, now 53 — including counts related to income from the first son's position on the board of Ukrainian natural gas company Burisma Holdings.
That income was referenced in notes IRS whistleblower Gary Shapley took during an
Oct. 7, 2022 meeting
in which he alleged that Weiss divulged that he was not the "deciding official on whether charges are filed."
Republicans have emphasized that David Weiss assumed the role as US attorney for Delaware via the blue slip process under the Trump administration.AP
In the same meeting, Shapley noted in an after-action report, investigators found out that the younger Biden would not be charged for alleged tax offenses committed in 2014 or 2015. In his report, Shapley said he disagreed with the decision not to charge, noting there was "a large amount of unreported income in that year from Burisma that we have no mechanism to recover."
Waldon, who also participated in the Oct. 7 meeting, received a copy of Shapley's notes about Weiss via email four days and confirmed to Shapley that he had "covered it all."
Batdorf also testified that he had no reason to doubt Shapley's notes and that Waldon did not convey to him any sense of doubt about them.
Republicans are seeking to gain testimony from David Weiss later this year.Damian Giletto/
Delaware News Journal
via Imagn Content Services, LLC
Waldon, in his Sept. 8 interview with the committee, said he understood Shapley's description of Weiss not being the "deciding person" as referring to the process of working with fellow US attorneys to bring cases against Hunter Biden in Southern California and Washington, DC — again contrary to Garland's testimony that "no one had the authority" to reject Weiss if he wanted to file charges there.
"Anytime a US attorney has to go into another district, there is a process where they collaborate ... they talk and decide whether or not they're going to participate ... It was my understanding that they did not want to collaborate on the case," he said.
"There was processes that Mr. Weiss would have to work out with the Department of Justice, and that's my basic understanding," Waldon added later in the interview.
Both IRS whistleblowers Gary Shapley and Joseph Ziegler were reassigned from the Hunter Biden investigation amid tensions with David Weiss.
Both IRS officials praised the whistleblower for his diligence as an investigator.
"Gary is a fantastic agent. He's a bulldog. He will get to the bottom of it," Batdorf said at one point in his interview.
Waldon, for his part, answered affirmatively when asked to confirm that Shapley had received the "highest performance rating in recent years."
Republicans have teased plans to eventually subpoena Hunter Biden.
Still, both Batdorf and Waldon moved to push Shapley off the case as friction grew between the IRS investigators and Weiss over the lack of charges. The agency removed the entire
investigative team from the Hunter Biden case in May of this year
.
"I mean, the decision to remove Mr. Shapley was made by Darrell and I in December, when we knew there was an issue — potential issue going forward," Batdorf testified.
"Gary has a tendency to go to level, like grade-seven, five-alarm fire on everything" he added. "He has a mindset that if you don't agree with him, I mean, you're just incompetent."
Congressional Republicans have probed the Biden family's overseas business dealings.
"Before I left the special agent in charge position, in February, I recommended to Mr. Batdorf that Gary Shapley be removed as the SSA from the Hunter Biden investigation, primarily due to what I perceived to be unsubstantiated allegations about motive, intent, bias," Waldon testified.
"And, again, my goal was to protect the integrity of the investigation and figure out a way forward."
Waldon also recounted a conversation with Weiss who said "he was not going to be responding to Mr. Shapley's emails anymore" due to "a conflict around discovery."
Hunter Biden has now pleaded not guilty to both firearm charges and tax misdemeanors.
"The US Attorney's Office was no longer working or talking with Mr. Shapley. And there was no immediate — I didn't think that that would be resolved quickly. And in order to move the investigation forward, I recommended that, you know, he be removed," Waldon said.
Batdorf told investigators that Weiss thought Shapley was being too slow to hand over evidence for discovery purposes in the fall of 2022 — evidence that purportedly detailed Shapley's issues with Weiss' handling of the probe.
"So, when Mr. Weiss was pushing to get discovery in mid-November, or late October, and then following up in mid-November, he was pushing to get information from Mr. Shapley that would include Mr. Shapley reporting about concerns he had about Mr. Weiss' conduct in this matter. Is that fair?" Batdorf was asked.
President Biden has strenuously denied meddling in his son Hunter's overseas business activities.
"Yeah. If it was in that time frame he's requesting, yes. Yes, it's fair," Batdorf answered.
Waldon also recounted that Shapley raised various concerns to him about the Biden investigation, but he declined to relay those to the Treasury Department inspector general's office because "I wasn't seeing supportive evidence."
The House Judiciary Committee has separately issued subpoenas for testimony from Waldon, Batdorf, and Baltimore FBI Assistant Special Agent in Charge Ryeshia Holley — all of whom were present in the Oct. 7, 2022 meeting.
Additionally, Judiciary Committee Chairman Jim Jordan (R-Ohio) wants to hear testimony from Weiss next month.