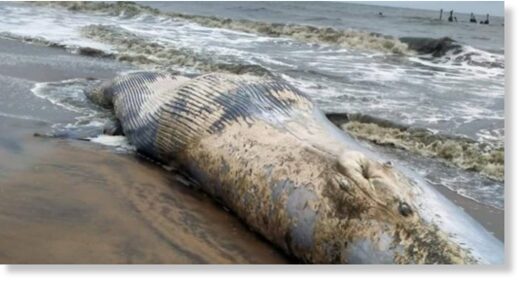 A dead blue whale washed ashore in rain hit Kozhikode beach on Saturday morning. A few fishermen who arrived at the beach spotted the giant marine mammal first on South Beach by 10.15 in the morning.
"The carcass, which started to decompose looks more than 2 days old", said a fisherman who spotted the dead whale in the morning.
A huge number of people including children are visiting the spot to take a glance at the giant whale.
A post mortem will be conducted at the beach itself and the carcass will be buried there itself making a deep pit as per the protocol' said Kozhikode Corporation health officer in charge Pramod to Onmanorama.
The sample of the carcass will be sent for further tests to the National Institute of High-Security Animal Diseases, Bhopal. A decision on further procedures will be taken later, he added.
Blue whales are considered an endangered species.