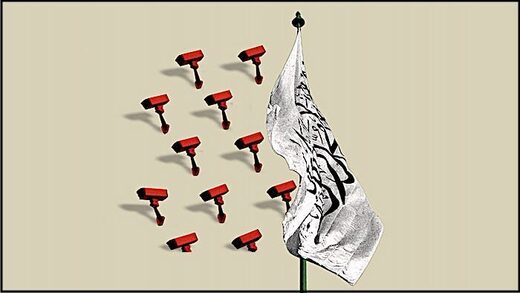 Lost and Found:
Another troubling consequence of the hasty U.S. withdrawal from Afghanistan appears to have emerged.
The Taliban
has reportedly obtained a years-old security plan created by the U.S. that could help launch a sweeping new surveillance system in
Afghanistan
, raising concerns among experts that the system could be used for nefarious purposes.
The plan, which is based on a map the United States apparently created
before
withdrawing from Afghanistan in 2021
,
was originally intended for the previous government.
Now,
the Taliban regime is considering using it as a basis for a project meant to root out
terrorist threats
,
Ministry of Interior spokesman Abdul Mateen Qani told
Reuters.
"At the present we are working on a Kabul security map, which is [being completed] by security experts and [is taking] lots of time. We already have two maps, one which was made by U.S.A for the previous government and second by Turkey."
The United States has claimed it is
not
working with the Taliban on the surveillance program, which will take at least four years to roll out, according to Qani. It's not clear how the Taliban obtained the alleged surveillance maps from either the United States or Turkey.
The alleged national security plan has already raised concerns among human rights activist who fear that the Taliban could use the system to go after domestic critics, rather than target terrorists.
It's a near certainty that
the Taliban will leverage any surveillance to target women, critics, and former government officials
to further their repressive rule, said
Nathan Sales, a former State Department coordinator for counterterrorism.
Sales told The Daily Beast:
"We know what the Taliban is likely to do with any surveillance capabilities, because we know what they've been doing with their existing capabilities — and what they've been doing is ruthlessly suppressing former government officials who partnered with the U.S., ruthlessly suppressing women and girls for the 'crime' of trying to get an education or work outside the household. If they have surveillance capabilities or other technologically-enabled capabilities, you can bet that they're going to use those tools to further entrench their rule."
The Taliban is reportedly getting Beijing in on the initiative too: According to Bloomberg,
Chinese Telecommunications company Huawei has reached a "verbal agreement" to support the
camera surveillance plan
after talks with regime officials.
The Biden administration has admitted that U.S. assets had been left behind in the aftermath of the chaotic and hastily coordinated withdrawal from Afghanistan in 2021.
According to a report from the Special Inspector General for Afghanistan Reconstruction:
"Nearly all night vision, surveillance, communications, and biometric equipment that was provided to the ANDSF were left behind."
It was not clear if this surveillance equipment included maps.
The Chargé d'Affaires of the U.S. Mission to Afghanistan Karen Decker did not immediately return a request for comment. The State Department referred comment to the Department of Defense.
Sales warned:
"It shouldn't come as a surprise that the Taliban would seek to use for its own benefit equipment or capabilities that the United States had provided to the previous government and left behind in the rush for the exits.

"This is actually one of the reasons why when you do a retrograde you want to do it in an orderly way to make sure that nothing that's sensitive — information or material — gets left behind to be used by your adversaries."
Downward Spiral
It's also possible, though less likely, that the United States is leaning on the Taliban to try to knock out terrorism in Afghanistan in a more coordinated way —
a move Sales cautioned would be a misstep.
"This could mean that the U.S. and the Taliban are cooperating in some way for the achievement of security goals. That strikes me as a road that we should be very, very cautious about starting to walk down. The Taliban's interests are not our interests. The United States does not want to see the Taliban succeed in its misgovernance of the long-suffering people of Afghanistan."
That said, there is a serious threat of resurgent terrorism in the region following the U.S. withdrawal from Afghanistan.
Army Gen. Michael Kurilla, the head of U.S. Central Command warned lawmakers
in a briefing in March that the
ISIS branch in Afghanistan, ISIS-K, was six months away from being able to "do an external operation against U.S. or Western interests abroad... with little to no warning."
Afghanistan has grown into a hub for
coordinating terrorist plots
against embassies, churches, and business centers since the withdrawal, according to leaked U.S. intelligence,
The Washington Post
reported. And while
al Qaeda
is "unlikely" to resurge in Afghanistan, U.S. assessments indicate that the broader terrorist threats in Afghanistan remain.
United Nations officials have grown concerned
about a resurgence of terrorism in Afghanistan in recent months as well. Vladimir Voronkov, the Under-Secretary-General of the Office of Counter-Terrorism, said just last month that the
operational capabilities of ISIS-K were reportedly increasing,
leading the group to "becoming more sophisticated in its attacks." He said:
"The situation in Afghanistan is growing increasingly complex, with fears of weapons and ammunition falling in the hands of terrorists now materializing."
ISIS-K has already attacked the Ministry of Foreign Affairs in Afghanistan on multiple occasions this year. According to a recent U.S. intelligence community assessment, the terrorist group still has hopes to launch attacks against the west.
According to the Office of the Director of National Intelligence's annual worldwide threat assessment states:
"ISIS-Khorasan almost certainly retains the intent to conduct operations in the West and will continue efforts to attack outside Afghanistan."
Still, some experts argue that the terrorism threat may be nothing more than a convenient cover for the Taliban.
Matt Mahmoudi, Amnesty International's Researcher and Advisor on Artificial Intelligence and Human Rights, said:
"Implementing such a vast architecture of mass surveillance under the guise of 'national security' sets a template for the Taliban to continue its draconian policies that violate fundamental rights of people in Afghanistan — especially women in public spaces."