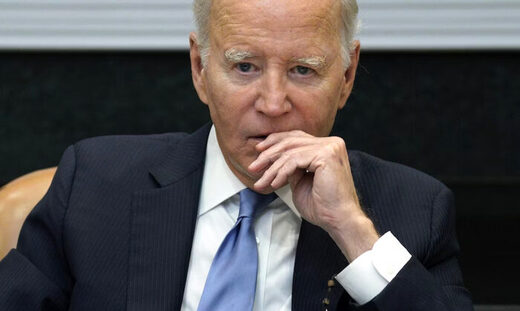 Assistant U.S. Attorney Lesley Wolf
blocked federal agents from including
then
Democratic presidential nominee
Joe Biden in their investigation into whether his son, Hunter Biden, violated the Foreign Agents Registration Act (FARA).
The revelation was contained in a new, lengthy report from the House Ways and Means Committee's investigation of the government's handling of the investigations into the Biden family.
Wolf, in an email to FBI and other U.S. officials, said:
"As a priority, someone needs to redraft attachment B. I am not sure what this is cut and pasted from but other than the attribution, location and identity stuff at the end, none if it is appropriate and within the scope of this warrant. Please focus on FARA evidence only. There should be nothing about Political Figure 1 in here."
The Committee released a separate court filing that identified Biden as
"Political Figure 1."
"POLITICAL FIGURE 1 - FORMER VICE PRESIDENT JOSEPH ROBINETTE BIDEN JR. — VP Biden is currently the Democratic Party Presidential candidate for the United States and served as the 47th officeholder for the position of the Office of the Vice President of the United States (VPOTUS) in the Barack Obama Administration from January 20, 2009 to January 20, 2017. He is the father of SUBJECT 1."
The information comes after House Oversight Committee Chairman James Comer (R-KY)
revealed
this week that he obtained information after subpoenaing bank records that showed that
Hunter Biden allegedly received wires sent from inside communist China for more than a quarter of a million dollars in 2019 and that he listed Joe Biden's home in Delaware as the address for the beneficiary of the money.
The banks produced "records
of two wires
originating from Beijing, China and linked to BHR Partners," a joint-venture between Hunter Biden's company and a Chinese investment company where Hunter Biden served on the Board of Directors, the report from Fox News
said
.
The two wires that were sent to Hunter Biden in the summer of 2019 totaled
$260,000 and listed Hunter Biden as the beneficiary, but listed his father's home in Delaware as his address.
The report noted that Hunter Biden allegedly lived in the home during various points in time from 2017 through 2019, but it was not clear if he was living at the home when the $10,000 wire was sent in July 2019 or when the second wire for $250,000 was sent in August 2019.
Comer said in a statement:
"Bank records don't lie but President Joe Biden does. In 2020, Joe Biden told Americans that his family never received money from China. We've already proved that to be a lie earlier this year, and now we know that two wires originating from Beijing listed Joe Biden's Wilmington home as the beneficiary address when he was running for President of the United States. When Joe Biden was vice president, he spoke on the phone and had coffee with Jonathan Li in Beijing, and later wrote a college letter of recommendation for his children.

"Joe Biden's abuse of public office for his family's financial gain threatens our national security. What did the Bidens do with this money from Beijing? Americans demand and deserve accountability for President Biden and the First Family's corruption. The Oversight Committee, along with the Judiciary and Ways and Means Committees, will continue to follow the evidence and money to provide transparency and accountability."