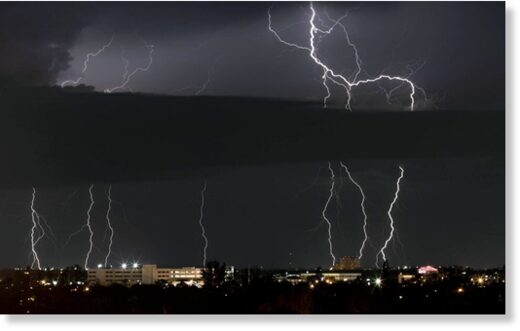 Lightning struck and hit a 16-year-old girl in central Florida, killing her.
Baylee Holbrook was hunting with her father on Tuesday when a lightning bolt struck a tree and hit them, according to the Putnam County Sheriff's Office. Her father, Matthew Holbrook, lost consciousness when the bolt struck, then found Baylee was not breathing when he came to.
Holbrook began performing CPR on Baylee and called 911, the sheriff's office said in the Facebook post. When emergency officials arrived, she was taken to a local hospital where she was stabilized before being transferred to a trauma center.
Baylee died Wednesday morning surrounded by her family, the sheriff's office said.
Outpouring of community support for Baylee Holbrook
Baylee was a student at Palatka Jr.-Sr. High School, and her classmates gathered Wednesday morning for a student-led prayer.
"We stand with our community in support of Baylee, and we are all hoping for a full recovery for this amazing young lady!" the Putnam County School district said in a Facebook post.
Community members also packed the gym on Wednesday night to pray,
reported WJXT-TV
in Jacksonville. While gathering, they spoke of Baylee's character and the impact she had on the community.
Hundreds of people took to Facebook to rally around her family. Her father's post asking for prayers has more than 1,000 comments.
Lightning strikes in Florida
Florida is known as one of the most active areas for lightning strikes, with more people being killed by them than any other state in the U.S. Between 2013 and 2022,
there were 51 lightning fatalities in Florida
. Texas ranked second with 19 lightning deaths.
"We want to remind our community that the forecast is predicted several more days of increased rain, thunder and lightning," the sheriff's Facebook post said. "Storms can come quickly and lightning can strike up to 10 miles away from any rainfall."