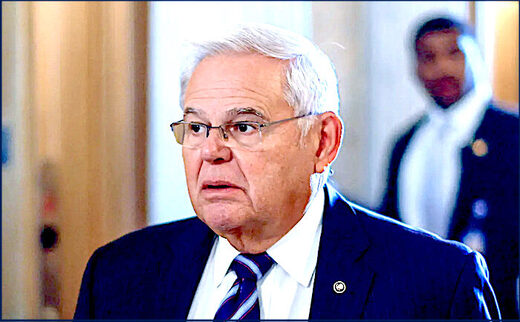 Republicans are bullish on their chances of capturing a U.S. Senate seat in New Jersey because of the scandal engulfing defiant Sen. Robert Menendez — the party's best opportunity to win in the Garden State in decades, GOPers told
The Post
Saturday.
Rep. Jeff Van Drew
(R-Atlantic City) said:
"I really believe Republicans — for the first time in a long time — do have a chance. You see Democrats coming out saying he should resign, they are scared. They are going to do everything they can to try and get him out. I think people in New Jersey may be ready for a conservative populist."
Van Drew said he was being inundated by calls from New Jersey residents to throw his hat into the ring and that he was considering the idea. Democrat Kyle Jasey, a Jersey City real estate entrepreneur, and Republican Christine Serrano Glassner, mayor of Mendham Borough,
had already announced before the Menendez indictment.
Menendez, 69, and his wife were both hit Friday with federal corruption charges, including allegedly taking over $600,000 bribes from a group of New Jersey businessmen to benefit them and further the interests of the Egyptian government.
New Jersey Gov. Phil Murphy has called on the senator to resign.
A Menendez resignation would allow the Democratic governor to appoint a replacement ahead of the 2024 elections, where Menendez's seat would be up for grabs.
But Menendez has called the charges a "smear campaign,"
has
only stepped down
from his chairmanship in the Senate Foreign Relations Committee, vowing to for now to stay put — something Republicans would be very pleased to see happen.
"We're keeping a close eye on the New Jersey Senate race," said Mike Berg, a rep for the National Republican Senatorial Committee which oversees the party's Senate prospects.
Menendez will likely face a bruising primary from Dems desperate to keep the indicted pol off the 2024 ballot.
Already on Saturday,
Rep. Andy Kim
(D-N.J.) said he will primary Menendez in the wake of the scandal.
What we know about Bob Menendez's indictment



New Jersey Sen. Bob Menendez is facing federal corruption charges related to an alleged years-long scheme.

Menendez allegedly accepted bribes, including gold bars, in exchange for helping three businessmen, Wael Hana, Jose Uribe and Fred Daibes, and the country of Egypt, according to officials.

Menendez and his wife, Nadine, were charged with taking hundreds of thousands in bribes, according to a Manhattan federal indictment.

When the feds raided Menendez's Englewood Cliffs home in June 2022, they found a 2019 Mercedes C-Class, at least 13 gold bars, and $566,000 in cash "stuffed in envelopes." Another $70,000 in cash was found in Nadine's safe deposit box.

The feds say Menendez also received mortgage payments and paid for a low-show or no-show job and home furnishings.

This isn't the first time the 69-year-old Democrat is facing federal corruption charges. In 2015, Menendez was accused of taking gifts from Florida eye surgeon Salomon Melgen. The "gifts" included a Paris vacation, flights on a private jet, and vacations at Melgen's villa in the Dominican Republic.
Kim, who the day before called on Menendez to resign, said on X:
"After calls to resign, Senator Menendez said 'I am not going anywhere.' As a result, I feel compelled to run against him. Not something I expected to do, but NJ deserves better. We cannot jeopardize the Senate or compromise our integrity."
But Menendez, a known political survivor who successfully beat back federal corruption charges six years ago — remaining in the Senate throughout, responded:
"Those who believe in justice believe in innocence until proven guilty. I intend to continue to fight for the people of New Jersey with the same success I've had for the past five decades."
The New Jersey twist adds to growing Republican optimism that the red wave that failed to materialize in 2022 may in fact happen in 2024.
Even with Menendez's troubles, the GOP will still face tough odds in the state.
New Jersey is solidly blue and hasn't elected a Republican senator since Clifford P. Case in 1972.