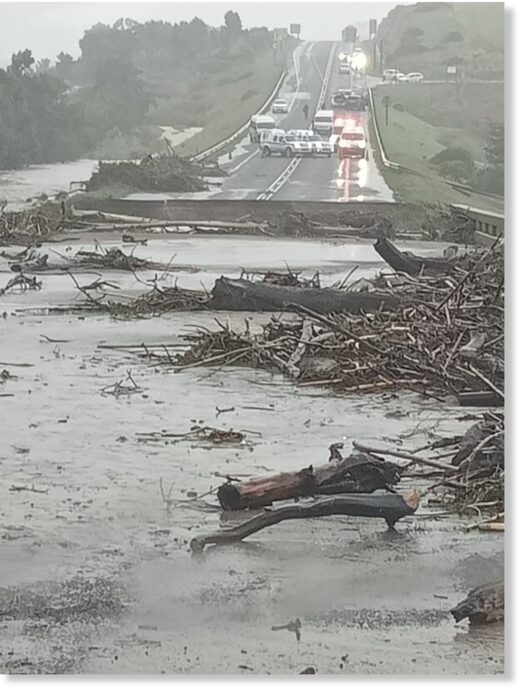 The Western Cape Department of Mobility has urged motorists not to leave their locations because of road closures due to the severe storm that hit the province over the weekend.
And those already travelling on affected routes should either consider turning back or finding alternative accommodation Monday evening.
In a statement on Monday afternoon, Western Cape Mobility MEC Ricardo Mackenzie said the severe rainfall and flooding has caused significant disruptions to the roads across the Western Cape.
Mackenzie said there have been closures on all major roadways, including the N1, N2, R60 and R62.
"Traffic is moving very slowly on heavily congested routes near Worcester, as all traffic from the N2 has been diverted to the N1," Mackenzie said.
Meanwhile, no safe alternative route has been identified for the traffic delay on the R60 between Robertson and Worcester, which has also been closed.
"Members of the public are asked to please not use this route but rather make alternative accommodation arrangements for the night to allow officials time to reopen routes safely."
Mackenzie added that provincial traffic law enforcement officers are assisting local authorities with traffic control, while teams from the Department of Infrastructure are working to restore damaged roadways as quickly as possible.
"Please be patient and take extra care if you must travel. Increase your following distances, ensure your lights are switched on, reduce your speed, follow the directions of traffic officials, and do not take any chances driving through water flooding the roadway."
Three dead, 21 injured in bus accident as storms rage in Cape Town
Three people died and 21 others were injured after a Golden Arrow bus overturned along Jakes Gerwel Drive in Cape Town.
The accident happened at around 08:45 on Monday.
According to Golden Arrow Bus Services' HR and corporate affairs executive, John Dammert, the driver lost control of the bus.
Parts of the Western Cape have been left without power due to the severe weather conditions, according to Eskom.
In a statement on Monday, Eskom said the "extreme weather conditions have led to multiple faults across the Western Cape province, leaving a large part of its customer base without electricity."
The areas affected include: Bluedowns, Bredasdorp, Caledon, Delft, Grabouw, Kraaifontein, Khayelitsha, Malmesbury, Piketberg, Somerset West and Villiersdorp.
Towns around the Garden Route have also been impacted, Eskom said.
News24 earlier reported that a severe storm set in over parts of the Western Cape on Sunday evening, which has led to widespread flooding and gale-force winds.
"The electricity network remains vulnerable as parts of the Western Cape province continue to experience gale-force winds, heavy rain, flooding and thunderstorms after the South African Weather Service issued a level 9 warning," Eskom said.
"Eskom urges customers to remain patient and [to] expect prolonged periods without electricity supply."
Meanwhile, Eskom technicians are braving the weather conditions to attend to faults, the parastatal added.
"...Some are having to navigate treacherous terrain to access the network."
Road closures in areas affected by flooding have also restricted technicians from visiting sites.