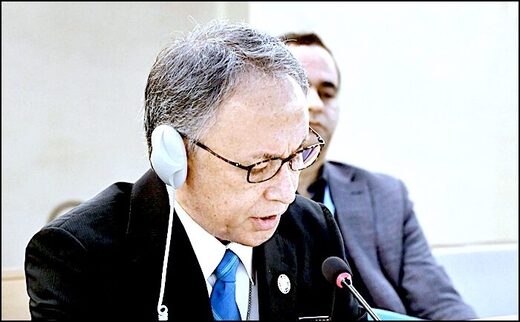 The governor of Okinawa Prefecture sought international backing at a U.N. session Monday for his opposition to a plan to relocate a U.S. military base within the prefecture.
But Gov. Denny Tamaki's stance
was immediately questioned
by a Japanese government official at the venue in Geneva, a split
highlighting the contention over the project based on an agreement first reached by Tokyo and Washington in the 1990s.
"I am here today to ask the world to witness the situation in Okinawa," Tamaki told a session of the world body's Human Rights Council, arguing that
the concentration of the military bases there threatens peace.
Tamaki, the first Okinawa governor in eight years to address the council, said:
"The reclamation work proceeds despite the fact that it was clearly opposed by Okinawan voters in a democratically held referendum."
He spoke during a part of the session that was allocated for a Japanese nongovernmental organization.
Under the bilateral agreement, the Japanese government is proceeding with work to
relocate the U.S. Marine Corps Air Station Futenma from a densely populated area in Ginowan to a new facility being built in a coastal area in Nago, both on Okinawa Island, despite staunch local opposition.
Tamaki has sought to drum up international support as he struggles to prevent the relocation plan, saying
the island prefecture hosts 70% of all the U.S. military bases in Japan while accounting for only 0.6% of the country's total land area.
Earlier this month, however, Japan's Supreme Court turned down his government's appeal against the central government's order related to carrying out necessary landfill work.
After Tamaki's address at Monday's event, a representative of the Japanese government mission in Geneva defended the ongoing work to build an airfield in the Henoko area of Nago.
"Steadily advancing the construction work based on the policy that the Henoko relocation is the only solution will enable the complete return of Futenma Air Station as swiftly as possible" and lead to the elimination of dangers to the local population."
Tamaki's predecessor, Takeshi Onaga, expressed his opposition to the Futenma base relocation plan at the council in 2015.