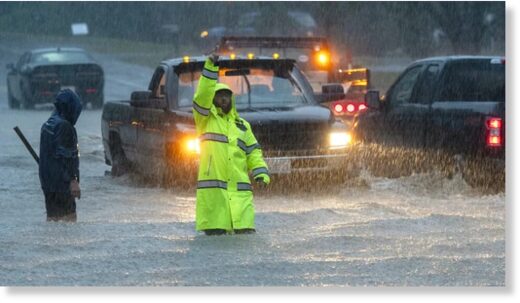 Dangerous flash flooding follows heavy rains in Leominster, Mass., forcing rescues and school cancellations. WBTS' Kirsten Glavin reports.
Comment:
CNN
reports
:
Massachusetts cities devastated by floodwater could face new perils as more rain is on the way and officials wonder whether a "very sensitive" dam in will hold up.

Gov. Maura Healey has declared a state of emergency across Massachusetts on Tuesday due to "catastrophic flooding" that began Monday and inflicted damage to homes, businesses and infrastructure, including bridges, dams and railways.

And about 200 homes were damaged in and around North Attleborough after a storm Monday quickly dumped about 5 inches of rain on ground already saturated from a weekend storm, officials said.

"It was really scary, the amount of water that fell in just a short amount of time and the incredible devastation that it caused," the governor said.

No civilian injuries have been reported from the North Attleborough flooding, but a firefighter was injured overnight and was in stable condition, Coleman said Tuesday.

She also said the massive flooding that hit various regions of Massachusetts "severely impacted" two dams, damaged railroad tracks and forced a number of seniors to be evacuated by boats in the middle of the night.

"One of those dams has been shored up already and the other will be shored up by the end of the day," said Healey, who toured the damage on Tuesday.

Leominster was another city in Massachusetts to face a torrential downpour this week. The city got pummeled by roughly 11 inches of rain in just six to seven hours, Mayor Dean Mazzarella said Tuesday.