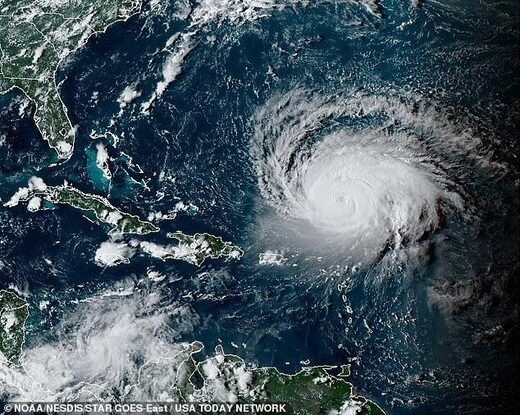 Hurricane Lee continues to grow stronger as it churns over the Atlantic and remains a threat to the coast of the northeast U.S. with dangerous rip currents.
Late on Sunday, the storm was centered about 285 miles north of the northern Leeward Islands. Its maximum sustained winds were clocked at 120 mph and it was moving northwest at 8 mph.
Last week, Lee strengthened from a Category 1 storm to a Category 5 storm in just one day. It lost strength, becoming a Category 2 storm in recent days, but now has grown stronger to a Category 3 and increased in size.
'We had the perfection conditions for a hurricane: warm waters and hardly any wind shear,' said Lee Ingles, a forecaster with the National Weather Service in San Juan.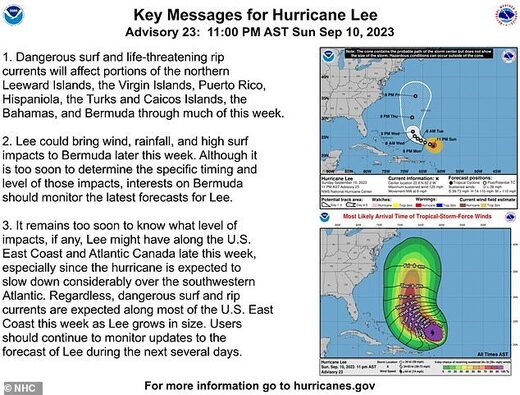 The National Hurricane Center said dangerous surf and rip currents were expected to hit most of the U.S. East Coast, but the hurricane's impact beyond that was still unclear.
Lee is expected to strengthen further in the upcoming days and then weaken again, the U.S. National Hurricane Center said.
The center of Lee also was growing in size, with hurricane-force winds extending outward up to 75 miles from the center and tropical-storm-force winds extending outward up to 175 miles.
Breaking waves of up to 20 feet were forecast for Puerto Rico and nearby islands starting early this week, with authorities warning people to stay out of the water.
Coastal flooding was expected for some areas along Puerto Rico's north coast and the eastern portion of St. Croix in the U.S. Virgin Islands, according to the National Weather Service in San Juan.
Sunday appeared to be just another hot and humid late summer day in Puerto Rico's capital, San Juan, where people walked by the beach or exercised, and businesses were open.
'So far it's just a normal day,' Kelly Herrera, a guest service agent at the Condado Vanderbilt Hotel on San Juan's beachfront, said in a phone interview.
Herrera said people were advised to stay away from the water in preparation for swells and dangerous rip currents generated by the storm.
The National Weather Service's office in Puerto Rico forecast waves of 6 to 10 feet, possibly higher, in some coastal areas.
The storm's projected path shows it remaining at sea - however, some models show it hitting the Northeast U.S., impacting places such as New York City and Boston with heavy rains and dangerous conditions.
'Regardless, dangerous surf and rip currents are expected along most of the U.S. East Coast this week as Lee grows in size,' the center said.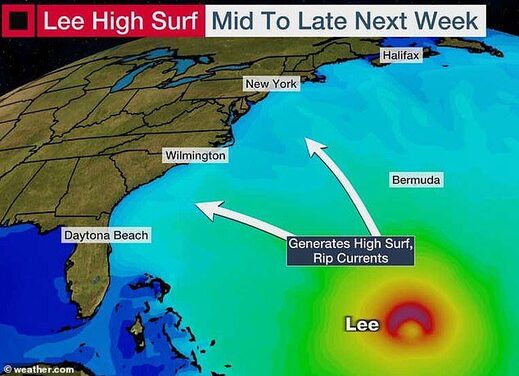 Lee is the 12th named storm of the Atlantic hurricane season, which runs from June 1 to November 30 and peaked on Sunday.
Tropical Storm Margot became the 13th named storm after forming Thursday evening, but it was far out in the Atlantic and posed no threat to land.
It was about 1,185 miles west-northwest of the Cape Verde Islands late Sunday. Its winds stood at 65 mph and it was forecast to strengthen into a hurricane by Monday night. It was moving northward at 8 mph.