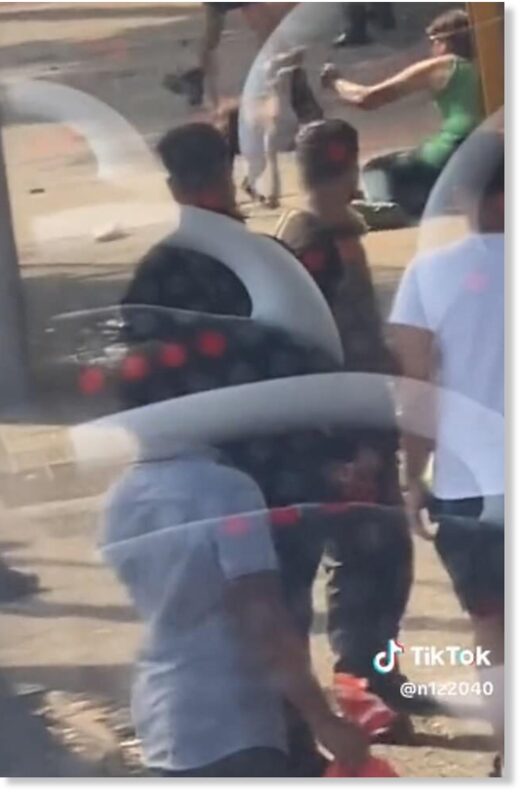 This is the horrific moment an XL Bully dog attacks a little girl before going for two men trying to save her.
The nightmare bite attacks unfolded as the animal's owner was taking it for a walk on Saturday afternoon in Bordesley Green, Birmingham.
A video circulating online which was taken from the top deck of a double-decker bus showed the rampage erupt. The little girl's arms was chomped on by the animal before a man managed to pull the dog off her.
She ran into a shop for safety as the XL Bully was held on the floor but it then managed to escape. The dog sprints after another man, who is seen on the film wearing a while t-shirt and shorts.
He is chased onto a petrol station forecourt where he was attacked before the animal is hit and stops the attack.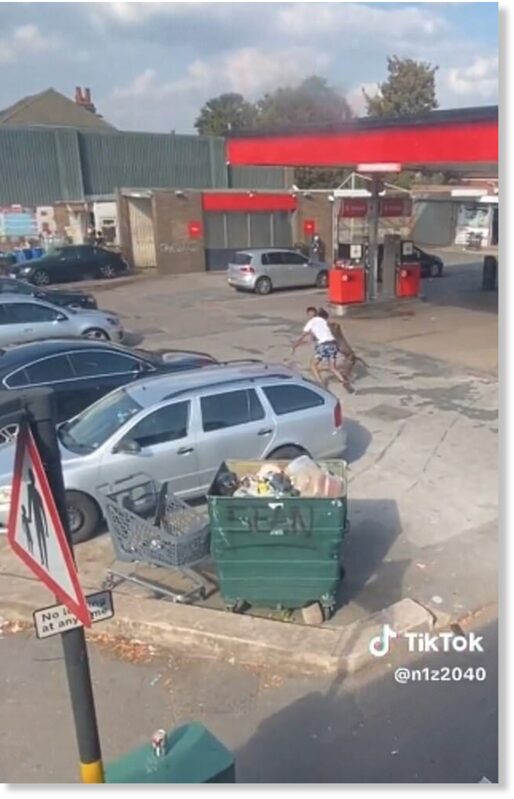 Home Secretary Suella Braverman is now pushing for a ban of the American XL Bully breed, arguing they are a 'clear and lethal danger' - particularly to children.
The Cabinet minister announced that she has commissioned 'urgent advice' on outlawing the breed after the 'appalling' attack in Birmingham.
West Midlands Police were investigating after the girl and two men who intervened were injured in the incident in the Bordesley Green area yesterday.
'This is appalling. The American XL Bully is a clear and lethal danger to our communities, particularly to children,' Ms Braverman wrote on X, formerly known as Twitter.
'We can't go on like this. I have commissioned urgent advice on banning them.'
Ms Braverman and Policing Minister Chris Philp commissioned the advice last week, with it being the Department for Environment, Food and Rural Affairs' responsibility to add the breed to the banned list.
The Home Secretary told
The Sun
they are looking to 'enhance public safety' and 'ban their breeding and sale'.
Robert Buckland, the former Justice Secretary, backed the ban, adding that he has become 'deeply concerned' by the rise in bully dog attacks on people, pets and livestock.
An activists and dog breeders alike have claimed the breed are 'very reactive', 'incredibly powerful' and 'dangerous'.
Dog breeder Stan Rawlinson, 76, said there is 'something wrongly wired' in XL bully dogs and told the newspaper that he 'wouldn't go near one'.
He alleged that they are 'a danger to women, children and everyone else' and can 'open up your jugular veins almost immediately'.
Similarly, Elisa Allen, of People for the Ethical Treatment of Animals (Peta), said: 'It is an undeniable fact that most serious and fatal dog attacks are by bully breeds.'
Despite being outlawed in the UK almost 200 years ago, authorities have warned dog fighting in Britain is on the rise and these type of breeds are the first choice.
The muscular American Bully XLs can display 'unnatural' savagery because it had been instilled in them through violent training and years of inbreeding.
Bloodshed is now spilling out onto the UK's streets, with the animals responsible for the majority of fatal dog attacks since 2021 amid a boom in their popularity, with Bully XLs increasingly being used by celebrities as status symbols. There is no suggestion the dog in this video was anything other than a pet.
On Sunday West Midlands Police launched an investigation into what went wrong.
A force spokesman said: 'We're investigating after three people were bitten by a dog in Birmingham yesterday.
'An 11-year-old girl ran past the dog as it was being walked by its owner in Bordesley Green, when she was bitten.
'Two men intervened but were bitten and left with injuries to their shoulders and arms.
'They were taken to hospital to be treated for their injuries.
'The dog was initially taken to a local vet to be checked over before being taken into secure kennels while the investigation continues.
'The owner of the dog has been spoken to by officers.'
(More
here
)