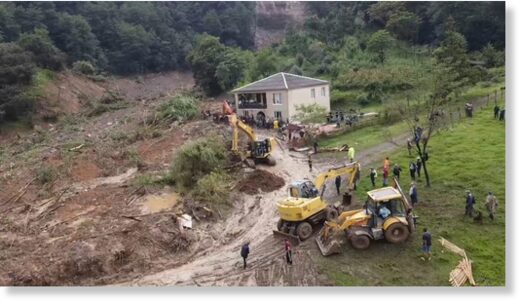 Heavy rain on 08 September caused landslides and flooding in the Guria region of Georgia. The country's Emergency Situations Management Service said dozens of people have been evacuated and 3 people have lost their lives.
Roads, bridges and other infrastructure have all been damaged, along with dozens of residential homes. The Emergency Management Service evacuated 122 people from the villages of Ozurgeti and Lanchkhuti municipality on 10 September. Around 10 homes have been completely destroyed.
According to the Ministry of Interior, 3 people have died in three separate incidents. The an elderly woman who died when a landslide destroyed her home in the village of Silauri in Ozurgeti Municipality.
Temur Mgebrishvili, the head of the Emergency Management Service, said a team of 200 personnel from his agency are currently working in the disaster zone.
Georgian Prime Minister Irakli Garibashvili issued a statement on 08 September.
"It is with a heavy heart that I learned of the tragedy in Guria. In these difficult moments, I extend my condolences and sympathy to the family members and loved ones of the deceased.
"The state will do everything to assist the victims. All state institutions are fully mobilized, and active rescue and search measures are underway."
A massive mudflow struck the mountain resort town of Shovi in Oni municipality of the Racha Region in Georgia on 03 August 2023. Dozens of people were reported missing, triggering extensive search and rescue (SAR) efforts. Firefighters of the Emergency Management Service of the Ministry of Internal Affairs reported that 32 people had lost their lives in the disaster after one more body was found in the river Chanchakhi in Racha on 09 September. The search continues for one remaining missing person, the Emergency Management Service said.