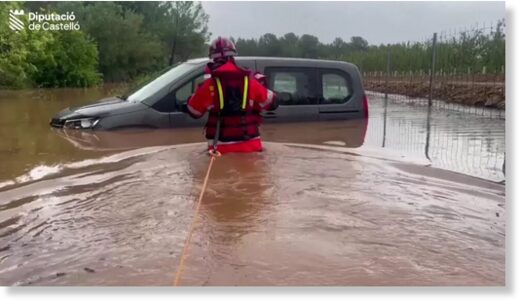 Several weather warnings have been issued across Spain as heavy rain causes major flooding across parts of the country.
Maximum red weather alerts are in place in the Madrid, Toledo and Cádiz regions.
Sunday's football match between Atletico Madrid and Sevilla was suspended due to the torrential rain.
Residents in Madrid have been asked to stay at home due to "the exceptional and abnormal" rainfall, the mayor said.
In the Spanish capital alone, firefighters have been called to alleviate the situation in flooded roads 190 times.
Much of the rainfall - brought by a storm - has been concentrated in coastal regions around Cádiz, Tarragona and Castelló.
In the eastern province of Castelló, flooding prompted firefighters to rescue a man trapped in his car, which was surrounded by waist-high flood water.
People have also been advised to avoid unnecessary trips in the north-eastern city of Alcanar, Tarragona - where 215 litres per square metre of rain fell in a 24-hour period.
Juan Carlos Penafiel, who was visiting the city, said he was woken up by the water entering his second-floor apartment.
"We organised amongst ourselves to make ropes with towels and bed sheets and used them to pull two young men who were grabbing on to columns," he told Reuters news agency.
"We pulled them to the top floor and saved them. It was terrifying, very very scary with small children, women. Nobody showed up, we were left alone to save ourselves," he added.
The rains have caused debris and mud to slide onto Spanish roads, while many vehicles have struggled to move in heavily flooded areas.
The weather has been brought by slow-moving storm system, known as a depresión aislada en niveles altos (Dana).
According to
El Pais
newspaper, some train services have been called off across Spain and drivers have been warned to avoid certain flooded roads in heavily flooded areas.
This weekend's weather events follow a scorching hot summer in Spain and much of southern Europe.