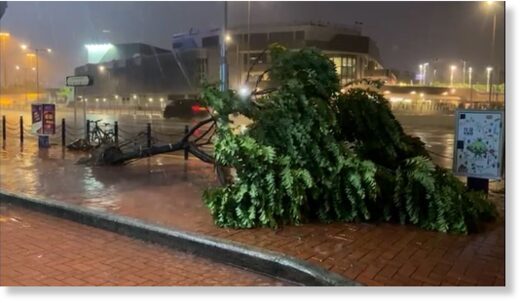 Typhoon Saola has made landfall in the southern Chinese province of Guangdong as violent winds lashed nearby Shenzhen, Hong Kong and Macau, leaving at least one dead and a trail of destruction and flooding in many areas.
Hong Kong and China's neighbouring provinces cancelled hundreds of flights on Friday and shut businesses and schools as the super typhoon - packing winds of more than 200 kilometres per hour (125 miles per hour) - edged closer, forcing some 900,000 people to leave areas at risk in Guangdong and Fujian provinces.
But as southern China's coastal areas braced for the storm's arrival, Saola was downgraded before dawn on Saturday, after the typhoon passed Hong Kong without the much-feared direct hit on the financial hub, and then weakened.
Chinese authorities said Saola had made landfall in Guangdong's Zhuhai city with winds slowing to about 160km/h (99mph) and was expected to weaken further as it moved along China's southern coastline.
Local media reported that one person was killed in Guangdong's Shenzhen city after a tree fell and hit their vehicle.
Railway operations in Guangdong were allowed to gradually resume from 8:30am (00:30 GMT) local time, the railway operator said.
Despite weakening, Saola will continue to affect the region, Chinese authorities said, due to strong winds and rains.
Local media in Shenzen reported that Saola had moved away from the city on Saturday morning and warnings were downgraded from a red typhoon to a yellow rainstorm alert.
Though winds and rains have weakened, members of the public were still advised to remain inside, according to reports.
Hong Kong had imposed its highest hurricane storm signal of 10 on Friday night, lowering it to 8 by Saturday morning. The city's weather observatory said it would remain in force until 4pm (08:00 GMT) as heavy rain and flooding were still affecting the territory.
Fallen trees were strewn over many roads, particularly in the more exposed outlying islands. In Hong Kong's bustling Causeway Bay district, many building signs had flown off.
In Macau, the world's biggest gambling centre, casinos were allowed to reopen from 8am on Saturday, the government said, after shutting on Friday night.
Haikui, a typhoon not as strong as Saola, is now forecast to make landfall on Taiwan's far southeastern coast late on Sunday afternoon and bring heavy rain across the island into next week.
Taiwan's two main domestic airlines cancelled all flights for Sunday, and the government has warned people to stay away from beaches and mountain areas.