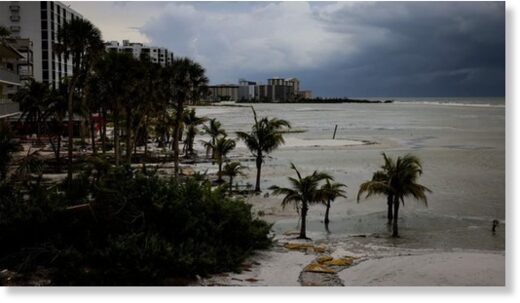 Hurricane Idalia roared ashore in Florida's Big Bend region as a dangerous Category 3 storm Wednesday morning, threatening to unleash life-threatening storm surges and rainfall.
Florida residents living in vulnerable coastal areas had been ordered to pack up and leave as Hurricane Idalia gained strength in the warm waters of the Gulf of Mexico, and authorities warned of "catastrophic storm surge and destructive winds" when the storm arrived.
According to the National Hurricane Center, Idalia came ashore as a Category 3 storm with sustained winds of at least 125 mph at Keaton Beach
in the lightly populated Big Bend region, where the Florida Panhandle curves into the peninsula. Its impact could be a big blow to a state still dealing with lingering damage from last year's Hurricane Ian.
The National Weather Service in Tallahassee called Idalia "an unprecedented event" since no major hurricanes on record have ever passed through the bay abutting the Big Bend.
Hurricanes are measured on a five category scale, with a Category 5 being the strongest. A Category 3 storm is the first on the scale considered a major hurricane and the National Hurricane Center says a Category 4 storm brings "catastrophic damage."
After hammering the Big Bend region, Idalia is forecast to cross the Florida peninsula and then drench southern Georgia and the Carolinas on Thursday. Both Georgia Gov. Brian Kemp and South Carolina Gov. Henry McMaster announced states of emergency, freeing up state resources and personnel, including hundreds of National Guard troops.
Source: AP