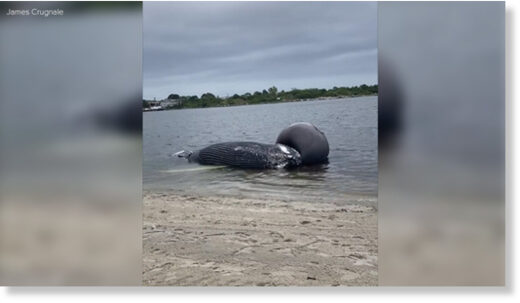 Marine biologists and New York City parks officials are working to secure a dead humpback whale that washed ashore near Rockaway Inlet, west of Atlantic Beach.
The 30-foot whale was reported Friday afternoon and parks officials were working with the National Oceanic and Atmospheric Administration to secure the remains and prepare it for a necropsy, said Robert DiGiovanni, chief scientist for the Atlantic Marine Conservation Society.
Crews were guarding the whale's carcass on shore and protecting the area from beachgoers approaching it in the surf, DiGiovanni said.
A necropsy is planned on the whale Saturday to determine a cause of death. Officials did not know immediately when the whale died.
It is the third whale that has washed up near Long Island beaches this month and the 17th whale in the New York-New Jersey region.
That marks a record number of dead whales this year appearing on beaches in the region. Experts say a larger number of whales are coming closer to shore to feed and arriving earlier in the winter and spring, officials said.
Officials said one of the main causes of these whale deaths has been trauma consistent with boat strikes,
It is the ninth humpback whale discovered off Long Island, in addition to three minke whales that died from a suspected biological condition.