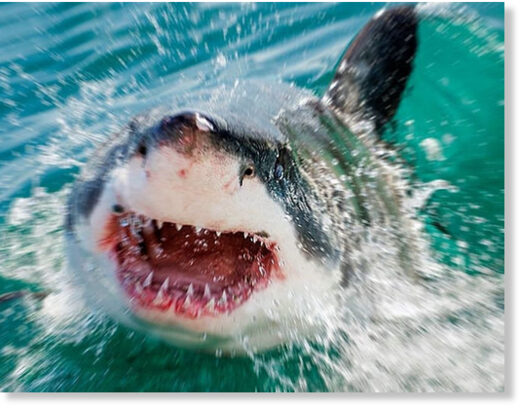 A surfer is in the hospital after suffering life-threatening injuries in a suspected great white shark attack off Australia's east coast Friday, police said.
The attack took place just before 10:15 a.m. local time on the Mid North Coast, the New South Wales Police Force reported in a statement Friday.
Emergency crews responded to Lighthouse Beach, at Port Macquarie, after receiving reports about the attack. Officers found a 44-year-old man who suffered major injuries to at least one of his legs and had been helped to shore by witnesses.
Police said witnesses applied a tourniquet to the man's leg before first-responders arrived.
Paramedics treated the victim, police said, before transporting him to a local hospital in critical condition.
Great white shark suspected in attack
Police did not release the victim's name, but local station
9NEWS
identified him as Toby Begg and reported he was attacked by a 12- to 13-foot-long great white shark.
The outlet reported the victim suffered serious injuries "from his hip to his calf and lower legs."
"(The victim) tried to fight this shark for 30 seconds and has then swum himself to shore where he has (realized) he has sustained significant lower leg injuries," police Chief Inspector Martin Burke told the outlet.
"From what I understand, it was a sustained and prolonged attack."
The outlet also reported the victim suffered life-threatening injuries and was undergoing surgery Friday.