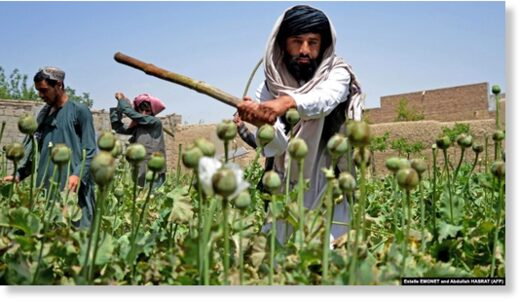 The Taliban appears to have sharply reduced opium cultivation in Afghanistan, the world's largest producer of the illicit drug.
In April 2022, the militant group banned the cultivation, production, and trafficking of all illicit narcotics.
Annual opium cultivation has
dropped by as much as 80 percent compared to last year
, according to new research by
David Mansfield
, a leading expert on Afghanistan's drugs trade who worked with Alcis, a British firm specializing in satellite analysis.
Mansfield said the Taliban had "
exceeded expectations
and reduced poppy cultivation to
levels not seen since 2001
," when the militant group was ousted from power by the U.S.-led invasion.
Around 80 percent of the opium produced in Afghanistan comes from the southern province of Helmand. Mansfield said satellite imagery appeared to show that in Helmand "poppy cultivation has fallen from more than 120,000 hectares in 2022 to less than 1,000 hectares in 2023."
Why It's Important:
Ending Afghanistan's status as one of the world's biggest producers of narcotics has been a priority for neighboring countries and the international community for years.
After 2001,
the United States spent some $8 billion
in a bid to eradicate the opium trade in Afghanistan. Washington destroyed poppy fields, offered alternative crops to farmers, conducted air strikes, and raided suspected labs. But the strategy largely failed.
For years, the Taliban earned hundreds of millions of dollars from taxing poppy farmers and trafficking narcotics to neighboring countries, from where they ended up in Europe and North America, experts have said.
Since regaining power,
the Taliban appears to be succeeding where foreign powers have failed
. In 2000, during its first stint in power, the Taliban implemented a similar ban.
Tom West, the U.S. special representative for Afghanistan,
tweeted
that reports documenting a significant decrease in poppy cultivation "are credible and important."
Michael McCaul
, the chairman of the House Foreign Affairs Committee, in a tweet criticized West for praising a group he said, "actively oppress Afghan women and girls, execute them in public, take Americans hostage, provide terrorist safe havens to Al-Qaeda, and are not recognized as a legitimate government by the United States." It appears that he later deleted the tweet.
What's Next:
The complete eradication of the drug industry in Afghanistan still appears to be far off.
Even as opium production appears to have decreased,
Afghanistan has become a major supplier of
crystal meth
in recent years.
The militant group is likely to face intense pushback from poppy farmers in southern Afghanistan if it fails to provide them with alternative livelihoods and crops.
The Taliban's cash-strapped and isolated government could lose popularity in a region of Afghanistan that has historically provided most of its leaders and fighters.