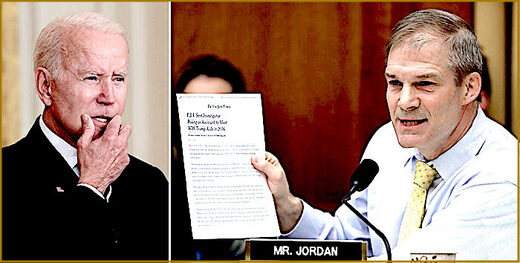 House Judiciary Committee Chairman Jim Jordan on Wednesday sent a letter to Attorney General Merrick Garland requesting information on the status of a special counsel investigation into President Joe Biden's potential mishandling of classified documents.
Jordan, an Ohio Republican, specifically wants Garland to provide him with
an "unredacted copy of the memorandum outlining the scope of Special Counsel Robert Hur's probes regarding President Biden and any supporting documents relating to his appointment."
Jordan, in his letter, gave Garland a deadline of June 20 to provide the requested update.
"The Committee on the Judiciary has jurisdiction to oversee the activities of the Department of Justice and the Federal Bureau of Investigation pursuant to Rule X of the Rules of the House of Representatives. I am also requesting any other document describing, listing, or delineating the authority and jurisdiction" outlining the scope "of the special counsel" probe.
Hur was appointed after classified documents were discovered at the Biden Penn Center, which dated back to when Biden served as vice president. Additional classified materials were also found at one of Biden's residences in Delaware.
Breitbart News
reported
:
"The request to Garland comes the same day Jordan asked Garland for the same memo for special counsel Jack Smith's investigation into former President Donald Trump's handling of classified documents and whether Trump or anyone in his orbit 'interfered with the transfer of power' after the 2020 election."
Jordan's letters to Garland came as a report on Wednesday claimed that
Garland's DOJ has informed former President Donald Trump that he will likely be indicted soon
in his classified documents case.
Just the News
reported
:
"The news comes as the Justice Department declined to delay charges to give time to investigate allegations of witness tampering submitted by the former president's legal team, according to multiple people on Wednesday familiar with the case.

"The sources directly familiar with the case told Just the News that DOJ declined to delay the planned indictment of Trump to investigate allegations that a senior prosecutor working on the case tried to influence a key witness by discussing a federal judgeship with the witness' lawyer.

"That allegation is still pending in a secret case before Chief U.S. District Judge James E. Boasberg, the jurist who oversees the federal court in Washington, D.C., and the grand juries that convene in that courthouse, the sources said."
Trump is already under indictment in a Manhattan court on charges alleging he concealed business expenses to cover up payments to adult film star Stormy Daniels. He has pleaded not guilty to those 34 felony counts.
Trump responded on his Truth Social platform to news that he may soon be indicted. He
wrote
:
"No one has told me I'm being indicted, and I shouldn't be because I've done NOTHING wrong, but I have assumed for years that I am a Target of the WEAPONIZED DOJ & FBI, starting with the Russia, Russia, Russia HOAX, the 'No Collusion' Mueller Report, Impeachment HOAX #1, Impeachment HOAX #2, the PERFECT Ukraine phone call, and various other SCAMS & WITCH HUNTS. A TRAVESTY OF JUSTICE & ELECTION INTERFERENCE AT A LEVEL NEVER SEEN BEFORE. REPUBLICANS IN CONGRESS MUST MAKE THIS THEIR # 1 ISSUE!!!"

"It's all about ELECTION INTERFERENCE. They don't want to run against me. I ran twice, I did much better the second time, getting millions and millions more votes than the first, a record for a sitting President, and am leading Biden in the polls, by a lot. They are the Party of Disinformation! They are using the DOJ & FBI against me to Rigg the 2024 Election. They'll hit Hunter with something small to make their strike on me look 'fair.' Nothing about these Fascists is fair or honest. FIGHT!"