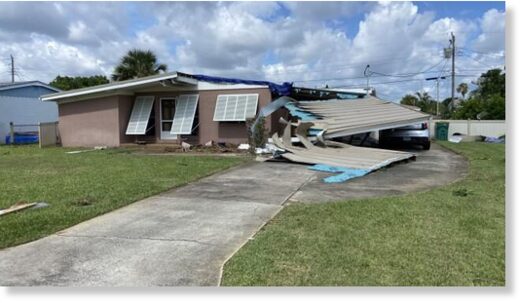 The National Weather Service confirmed that an
EF-1 tornado touched down Wednesday evening in Central Florida
, traveling roughly a mile, damaging up to 50 homes in its path.
After surveying the damage on Thursday, the NWS said the tornado touched down close to the Lighthouse Landing subdivision in South Patrick Shores, a coastal community in Brevard County, and traveled east-northeast for nearly a mile, before moving offshore and eventually out to the Atlantic Ocean.
The tornado touched down at 5:19 p.m. and was on the ground for approximately five minutes, the NWS said, citing preliminary information. At its peak, its estimated that the tornado had maximum sustained winds between 90 and 100 mph and was up to 300-yards wide.
Brevard County said Thursday that
between 40 and 50 homes were damaged in Wednesday's storms
, most with minor damage to their porches, lanais, awnings, siding, and trees. Fourteen homes had roof damage - two considered major and 14 considered minor, county officials said.
Between six and 12 power poles were also damaged in the storms.
The NWS said there were no known direct injuries or fatalities as a result of the tornado.
A tornado warning was issued shortly after 5 p.m. for parts of Brevard County as strong to severe storms moved across Central Florida.
How are tornados ranked?
The strength of a tornado is determined using the Enhanced Fujita Scale, named after Dr. Theodore "Ted" Fujita. Similar to hurricanes, it uses a five-point scale, 1-5, based on wind speed.
EF-0: 65 to 85 mph
EF-1: 86-110 mph
EF-2: 111-135 mph
EF-3: 136-165 mph
EF-4: 166-200 mph
EF-5: Over 200 mph