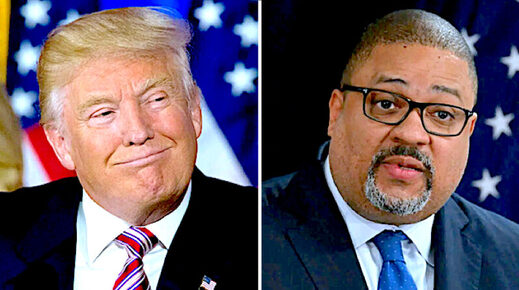 Manhattan District Attorney Alvin Bragg's case against former President Donald Trump heated up again this week.
Law enforcement sources revealed a "supervising detective" assisting Bragg's case against Trump has been suspended for his contact with Michael Cohen, who previously served as Trump's lawyer and has become adversarial to the 45th president.
New York Post
reported
:
"Jeremy Rosenberg, who investigates financial crimes for Bragg, had his gun removed recently for his interactions with Cohen, the sources claimed. A law enforcement source said Bragg's office is looking at how Rosenberg shared communications about Cohen with the office. Rosenberg also assisted in the prosecution of Steve Bannon in the alleged $15 million border-wall fundraising scam, for which Trump pardoned him. He did not return a call for comment.

"The office is conducting a review of an investigator's compliance with internal office protocols." a Bragg spokeswoman said.
Cohen's attorney, Lanny J. Davis said:
"The interactions between Mr. Rosenberg, Michael Cohen, and myself were always professional and focused on Mr. Cohen's personal security, which we appreciated."
Last week, Bragg moved to oppose an attempt by Trump's attorneys to move his hush-money case to federal court. Trump's lawyers argued late last month that the case cannot be tried in a state court because the alleged violations took place while he was president, making them a federal matter.
In court documents filed Tuesday, prosecutors in Manhattan argued that the case should remain with the state court because the former president's "alleged criminal conduct had no connection to his official duties and responsibilities as President, but instead arose from his unofficial actions relating to his private businesses and pre-election conduct."
A Manhattan grand jury indicted Trump on 34 criminal charges of falsifying business records related to adult film star Stormy Daniels.
Trump sent a payment to Daniels ahead of the 2016 election, allegedly to keep Daniels quiet about an affair the two of them had in 2006. Trump pleaded not guilty to all 34 charges.
Since the indictment, several legal experts have argued they believe that
Bragg's case is exceptionally weak
.
Former Whitewater deputy counsel Sol Wisenberg said:
"The question to ask yourself in a case like this [is], 'Would a case like this be brought against anybody else, whether he or she be president, former president or a regular citizen?' The answer is... no.

"You can debate all day long whether or not... Trump should be indicted related to the records at Mar-a-Lago, whether or not he should be indicted with respect to Jan. 6 incitement of lawless activity... Those are real crimes if they occurred, and he committed them," he said. "This is preposterous."
Former federal and New York State prosecutor
Tali Farhadian Weinstein
said
:
"Bragg is making a strategic decision to push back against Donald Trump and it might backfire. The former president is demanding that the Manhattan District Attorney's office provide a 'bill of particulars,' outlining the specific reason they upgraded his charges of business record fraud from misdemeanors to felonies in the Stormy Daniels hush payment case — something that under New York law, requires the fraud to have been committed in order to cover up a second crime. Bragg has declined to provide it so far. This could actually be a problem for Bragg."
Famed attorney
Alan Dershowitz
believes that Bragg
could be disbarred
for his case against former President Donald Trump.
Ian Millhiser,
a senior correspondent at Vox,
wrote
:
"There is something painfully anticlimactic about Manhattan District Attorney Alvin Bragg's indictment of former President Trump. It concerns not Trump's efforts to overthrow the duly elected government of the United States, but his alleged effort to cover up a possible extramarital affair with a porn star. And there's a very real risk that this indictment will end in an even bigger anticlimax. It is unclear that the felony statute that Trump is accused of violating actually applies to him."
John Bolton
— who served as a national security adviser in the Trump administration and has since come out against Donald Trump's 2024 campaign —
appeared
on CNN and blasted the charges filed against his ex-boss, former President Trump:
"Speaking as someone who very strongly does not want Donald Trump to get the Republican presidential nomination, I'm extraordinarily distressed by this document. I think this is even weaker than I feared it would be."
Notorious anti-Trump
GOP Sen. Mitt Romney
issued a
statement
saying:
"I believe President Trump's character and conduct make him unfit for office. Even so, I believe the New York prosecutor has stretched to reach felony criminal charges in order to fit a political agenda. No one is above the law, not even former presidents, but everyone is entitled to equal treatment under the law. The prosecutor's overreach sets a dangerous precedent for criminalizing political opponents and damages the public's faith in our justice system."