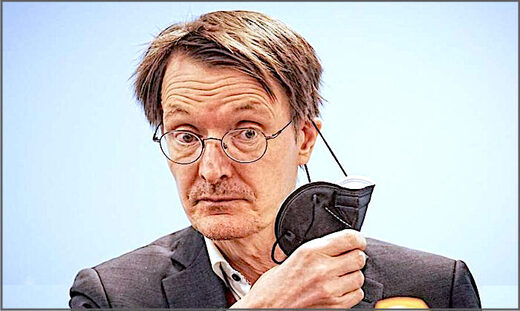 Karl Lauterbach is having a dramatic fall from grace...
Outside of Germany, few people have heard of
Karl Lauterbach, Germany's Minister for Health.
But he's one of the key figures in the Western Covid response.
Once hailed as a hero,
he's now engulfed in the biggest vaccine-injury scandal to have emerged since the pandemic.
Lauterbach has served in the role since December 2021, under the traffic light coalition led by Olaf Scholz. Often
described
as "Germany's Fauci", Lauterbach — a professor of health economics and epidemiology and long-time member of the SPD — rose to national prominence early on into the pandemic as a Covid hardliner.
In his role as an advisor to Angela Merkel and prominent TV and Twitter commentator, and then as the country's health minister, Lauterbach adopted an aggressively pro-lockdown and pro-vaccination stance,
claiming
that his aim was to vaccinate every single German —
through the imposition of mandates, if necessary
— in order to achieve so-called "herd immunity".
Like most countries, Germany didn't make vaccination legally mandatory for the general population, but rather
made it de facto mandatory by making one's Covid status a precondition for leading anything resembling a normal life — and making life impossible for the unvaccinated,
including through targeted lockdowns.
A small but vocal minority of politicians — including the far-Left Sahra Wagenknecht and the far-Right AfD — opposed Lauterbach's mass vaccination policies, warning about the side effects of these novel mRNA-based vaccines.
Lauterbach responded by claiming
— not only in a now-infamous
tweet
but also in several talk shows —
that the Covid vaccines were "without side effects".
It was an astonishing claim, considering
numbers
from Germany's own Ministry of Health showed (also repeated by Lauterbach
himself
) that reported serious adverse events occurred in one in 5,000 vaccinations. This increased up to 2 in 1,000 for all suspected adverse events.
Those words are now coming back to haunt Lauterbach. Over the past two years,
more than 300,000 cases of vaccine side effects
have accumulated
in the Ministry's own system, and more and more people are lodging compensation claims against the state
— which, based on the contracts signed by the EU with vaccine manufacturers,
is liable for any vaccine-related damage.
Meanwhile, the subject of vaccine injuries has begun to be
openly discussed
in the German mainstream media.
All this has forced Lauterbach to make a spectacular U-turn. In a recent
TV interview
, he admitted that vaccine-induced injuries are a serious issue, and that his ministry was planning to launch a programme to investigate the negative consequences of Covid vaccination and improve care as soon as possible. Additionally, Lauterbach said that
he hopes pharmaceutical companies will voluntarily help to compensate those harmed by the vaccines. "That's because the profits have been exorbitant",
he said. Just a year ago he
had said
:
"The pharmaceutical companies will not get rich with vaccines".
Lauterbach's words were welcomed by opposition parties, with the CDU now
calling
for an inquiry to investigate the government's Covid response, but drew mixed reactions from his own coalition allies. "Such statements don't contribute to strengthening Germany as a research and medicine location," said the pharmaceuticals expert of the FDP coalition party — a reference to
BioNTech's recent
decision
to boost its investment in the country.
This also explains Scholz's silence.
It's hard to imagine a more ruinous fall from grace for Lauterbach: in just over a year he's gone from national hero to symbol of the pandemic failures. On this issue, we may only be beginning to scratch the surface.