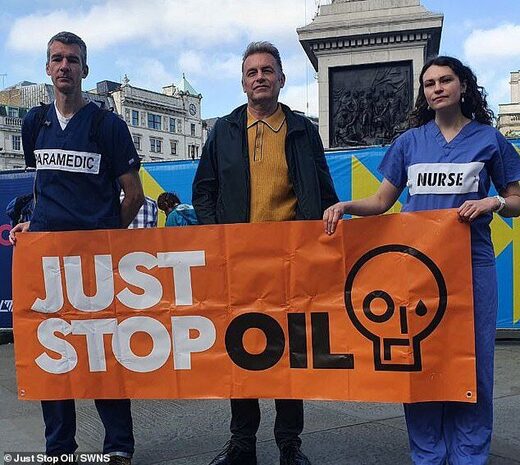 Outspoken BBC wildlife presenter Chris Packham joins Just Stop Oil 'slow march'
Just Stop Oil claimed a propaganda victory yesterday after the BBC's Chris Packham attended one of its 'slow march' demonstrations.
But as the wildlife presenter met activists holding up traffic in London, across the Channel the French were dealing with another eco protest in a manner very different from the British police's softly-softly approach.
Paris police used tear gas and baton charges to stop climate change demonstrators disrupting oil giant Total's annual general meeting.
Officers acted decisively when hundreds of mainly young protesters staged a sit-in outside the Salle Pleyel, a conference centre in central Paris. The protesters sat across access roads, locking arms and legs to form a human barricade in an attempt to prevent shareholders entering the meeting. One banner held up by the demonstrators read: 'The science is clear but Total is ignoring it.'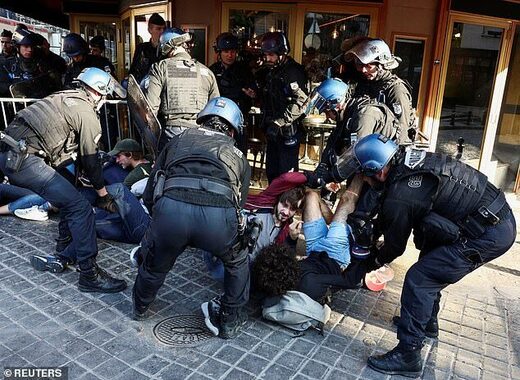 A witness said: 'When the protesters refused to move, tear gas canisters were fired, while police wearing body armour moved in.
'There were scuffles and attempted arrests, and very soon the whole area was covered in tear gas, so people had to get away.'
While the clashes in Paris were going on, Chris Packham was at the Strand in central London to film and interview Just Stop Oil activists for a Channel 4 documentary on non-violent protests.
It came a day after the controversial campaigners provoked widespread condemnation for vandalising a Chelsea Flower Show garden with orange paint.
A Just Stop Oil spokesman said: 'Acclaimed naturalist and Springwatch presenter Chris Packham arrived at the Strand with a crew to film and interview Just Stop Oil supporters.
'Talking to LBC he was overheard saying, 'If it isn't a disruptive protest it doesn't get news'.'
Last month the naturalist, 62, urged his Twitter followers to join Extinction Rebellion's 'Big One', which saw activists take to the streets of London for four days of protests.
At the event, he praised two Just Stop Oil protesters who were jailed for scaling the Dartford Crossing Bridge for their 'enormous act of bravery'.
The BBC said 'social media guidance for freelancers is ongoing' and would not comment on whether he was breaching its impartiality rules.
This week Packham was appointed president of the RSPCA despite his support for more militant environmental campaign groups.
Countryside Alliance chief executive Tim Bonner said: 'This is a strange decision... By linking itself to Chris Packham, the RSPCA will be alienating many people who have an important role in protecting the welfare of domestic and wild animals.'
Yesterday's Just Stop Oil protest marked the group's fifth week of disruption in the capital where it has led a series of slow marches.

Comment: A 'slow march' in London. The police aren't helpful, so the citizenry take their own action:




Around 40 protesters in three groups took to the streets in the West End, Maida Vale and Tottenham.
The Strand march was broken up by police at 8.30am, while the other two mini-marches involving four people each finished by 9.15am. No arrests were made.
On Thursday three members of the affiliated protest group Animal Rising caused outrage after they 'rescued' three lambs from the royal Sandringham estate. The animals - which farming experts said would be 'terrified' without their mothers - are still missing.