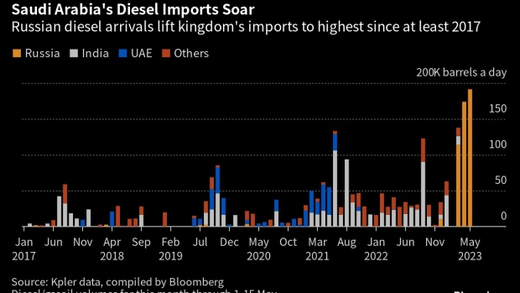 Saudi Arabia is snapping up millions of barrels of Russian diesel that Europe no longer allows, while simultaneously sending its own supplies back to buyers in the EU.
The kingdom imported 174,000 barrels a day of the diesel and gasoil from Russia in April and even more so far this month, data compiled by Bloomberg from analytics firm Kpler show. Simultaneously,
it became Europe's top supplier, leapfrogging Russia since February
.
The Middle East country is not sending the same Russian fuel back to Europe as it's importing, which would be in breach of European Union sanctions.
Work at refineries was responsible for imports rising, a person familiar with the matter said. The extra exported fuels, which came from different parts of the country, were made to different specifications and often subject to long-term supply commitments, the person said.
The trade flows are just one example of how the oil market has so far absorbed aggressive western sanctions — and a price cap — on Russian petroleum sales, allowing the country's crude and fuels to keep flowing in large volumes.
The flows were broadly consistent with data from Vortexa Ltd., another well-known shipping analytics firm. Bloomberg checked vessel tracks and other information on cargo loadings.
The Middle East country pipped the US to become the world's second-biggest exporter of diesel and gasoil last month
, according to Kpler.
Roughly
35% of the country's overall April exports were shipped to the countries in the European Union and the UK
.
The bulk of those shipments originated from Saudi Arabia's Jubail and Yanbu ports. Some also went to Africa.
In contrast, the Russian-origin barrels arrived at the kingdom's Ras Tanura and Jizan ports.
Saudi Arabia's imports of diesel-like fuels are expected to surge from an average of 31,500 barrels a day in 2022 to about 150,000 barrels a day
during the remainder of this year, said Iman Nasseri, the managing director for the Middle East at consulting firm FGE.