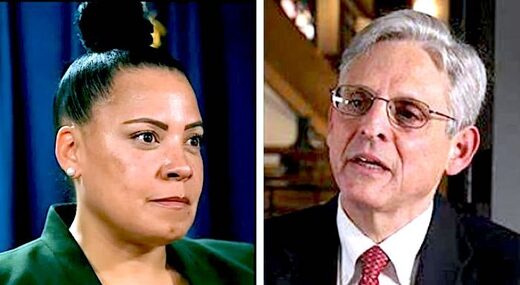 Biden's DOJ has decided not to charge
Rachael Rollins
after evidence found her guilty of election interference, raising concerns about a
double standard
in the criminal justice system.
Rachel Rollins, US Attorney for the District of Massachusetts, resigned from her office on Friday after the Department of Justice's Office of the Inspector General (OIG) found evidence that she lied to investigators to reportedly influence an election. The OIG referred criminal charges to the DOJ, but the
Justice Department
decided not to prosecute the district attorney,
according
to The Messenger.
The
report
states that "on December 16, 2022, pursuant to the Inspector General Act, 5 U.S.C. § 404(d),
the OIG referred the false statements allegation to the Department for a prosecutive decision.
The OIG's investigation revealed that
Rollins lied under oath during an investigation into the attorney allegedly trying to influence an election for district attorney in Suffolk County, MA last year.
Despite the findings, the OIG's report stated that
"On January 6, 2023, the Department informed the OIG that it declined prosecution."
According to the report,
Rollins provided derogatory information about District Attorney Kevin Hayden to Boston Globe and Boston Herald with the hope that it would help Boston City Councilman Ricardo Arroyo in the Democratic primary for Suffolk's district attorney in Sept. 2022.
The OIG said
Rollins was able to acquire the "non-public" and "sensitive" information as a result of her federal position.
After Arroyo lost to Hayden in the primary, Rollins leaked more material to the outlets, according to the report.
The OIG accused Rollins of violating multiple Standards of Ethical Conduct for Employees of the Executive Branch,
which include
Section 2635.702
(the use "of public office for private gain") and
Section 2635.703
(the use "of nonpublic information").
However,
the greatest charge against Rollins was that she allegedly gave false testimony under oath
when she denied providing the sensitive information to the
Herald.
The investigation also accused Rollins of disregarding ethical warnings on political activities and soliciting expensive sports tickets, The Messenger reports.
In 2021, Rollins, a Soros-back federal prosecutor, was confirmed as US DA of Massachusettes when Vice President Harris cast a tie-breaking vote after all Republicans voted against her nomination, according to the outlet.
The Department of Justice's failure to charge Rollins raises questions about a two-tiered system of justice in the United States because this is the same Justice department that is considering charges against former President Donald Trump for allegedly making false statements to investigators relating to classified material at Mar-a-Lago.
However, Trump's team of lawyers could use the DOJ's dropped charges against Rollins to their advantage if he gets indicted.