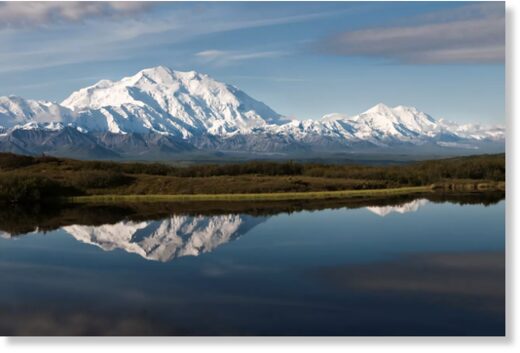 An avalanche
killed a Denali National Park and Preserve employee
while he was backcountry skiing within the park on a north-facing slope near Mile 10 on the Park Road on Thursday, May 4. Around 1 pm an individual reported to staff that they had observed a lone skier triggering an avalanche on an unnamed slope south of Jenny Creek and East of Savage River.
Denali rangers were dispatched and observed an unoccupied truck at the Mile 11 pullout. A ranger used a spotting scope to look for survivors in the area where the avalanche occurred. Two skis, one vertical, one lying flat on the surface, as well as an orange bag were observed in a debris field in the avalanche area.
Mountaineering rangers were dispatched with a helicopter and conducted a quick aerial reconnaissance of the area and then landed to configure for a short-haul operation. Two rangers with basic life support equipment were inserted via short-haul to the scene. Upon reaching the scene it was determined that the skier had died.
The man has been identified as 32-year-old Eric Walter, who had been an staff member of the Alaska Regional Communications Center (Denali Dispatch) and was known throughout the Alaska Region for providing radio-based safety support and dispatch services for National Park Service operations across Alaska. Walter was alone when the incident occurred.
"Our thoughts are with Eric's family in this challenging time," says Superintendent Brooke Merrell, "We are also incredibly grateful for the professional and compassionate response of our Talkeetna mountaineering team."
It was the first death in the park this season according to officials. Denali National Park is located about 4 hours north of Anchorage, AK, and is home to North America's tallest peak, Mount McKinley (or Denali). The park spreads out across 6 million acres and boasts a wide range of terrain, ranging from tundra to glaciers.
Traveling alone in the backcountry is riskier than traveling with a partner or a group. In areas as vast and remote as Denali, this is especially important to remember.