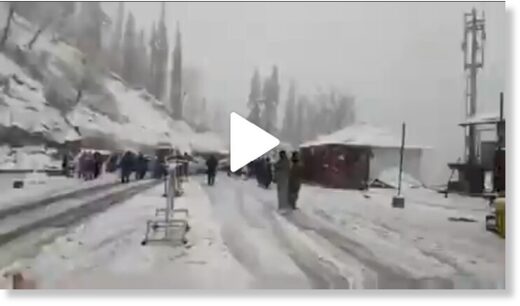 It's May and the high-altitude areas of Himachal Pradesh are still receiving snowfall, making the hill destinations more picturesque.
The unseasonal precipitation in the state has pushed down the mercury by several notches, weather experts said on Wednesday.
Tourist spots near Shimla like Kufri and Narkanda have experienced moderate to heavy rains. However, nearby destinations of Manali and Kalpa, 250 km from the capital, witnessed mild spells of snow.
According to HP Traffic, Tourists and Railways Police,
heavy snowfall in the Chanshil area blocked roads with one feet snow.
"Two JCBs deployed to clear snow and 30 vehicles stranded. Efforts are underway to clear the snow from the road surface," it said.
"High altitude areas of Lahaul-Spiti, Kullu, Kinnaur, Chamba, Sirmaur and Shimla districts have been experiencing moderate snow since Sunday," a Met official told IANS here.
Widespread rain in mid and low hills, accompanied by thunder and strong winds, along with snow in the higher reaches across the state, brought the minimum temperature several notches below normal, a weather official told IANS.
Picturesque tourist resort Dalhousie saw 80 mm rainfall, the highest in the state. Kothi saw 61 mm rainfall, while Dharamsala 51 mm and Manali 45 mm. Gondla in Lahaul-Spiti district saw 2 cm snow.
The wet conditions across the state are expected to continue at least till Sunday, owing to the influence of another western disturbance hitting the region on May 5 night.
The state capital Shimla, which saw the night temperature at 8.5 degrees Celsius, recorded 8.3 mm rain.
In Keylong in Lahaul-Spiti district, a minimum temperature of 1.6 degrees Celsius was recorded, the coldest in the state.
Kalpa in Kinnaur district recorded a minimum of 5.8 degrees.
Source: IANS