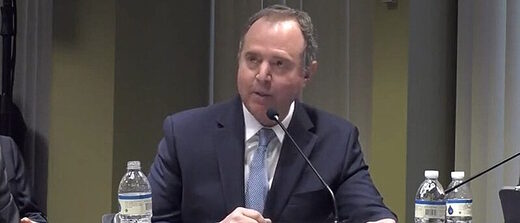 A heckler called out Democratic Rep. Adam Schiff of California for talking about former President Donald Trump at a Monday hearing on crime in New York City.
"You're the only one talking about Donald Trump," a protester said, cutting off Schiff as he claimed the House Judiciary Committee's Select Subcommittee on the Weaponization of Government
hearing
was more about defending Donald Trump, then labeling the Congressman a "scumbag."
"This is not a coincidence at all," Schiff said. "Instead, it is the GOP leadership in Congress doing what it has done best for the last six years, and that is to act as the criminal defense counsel for Donald J. Trump."
WATCH:
Republican Rep. Jim Jordan of Ohio, who chaired the subcommittee, called for Capitol Police to eject the heckler.
"Please remove the gentleman from the audience," Jordan said to the officers before turning his attention to the heckler. "Now you got to go. You got to go. I'm sorry. I'm sorry. I've given you several warnings. You got to go, unfortunately."
Among those scheduled to testify were Jose Alba, a clerk at a bodega who faced murder charges after he fatally stabbed an attacker before Bragg eventually
dropped
the charges after public backlash, Democratic Councilman Robert Holdman of New York City and victim's rights activist Madeline Brame.
Trump
surrendered
April 4 to be arraigned on 34 felony counts of falsifying business records charges, and pleaded
not guilty
to all charges during his appearance in court. Manhattan District Attorney Alvin Bragg
secured
a grand jury indictment against Trump March 30 in a case centered around a $130,000 payout to porn star
Stormy Daniels
in 2016 in return for Daniels signing a non-disclosure agreement during Trump's successful run for the White House.