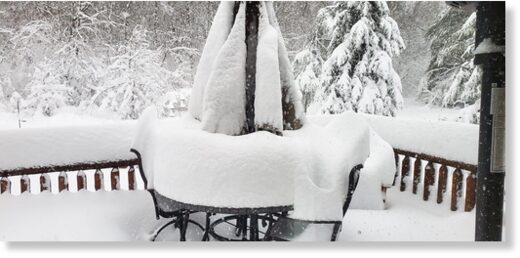 A late season winter storm dropped more than a foot of snow in some parts of Wisconsin Sunday night into Monday morning. The latest accumulation leaves the Twin Ports area of Duluth and Superior just short of an all-time record.
The latest system created a wide range of snow totals with southeastern Wisconsin seeing 1 to 3 inches and between 5 and 19 inches in the far western and north-central parts of the state.
The Town of Northfield in Jackson County reported 22 inches of new snow. Black River Falls, slightly southeast of Northfield, reported 19.5 inches as of 8:48 a.m.
The City of Phillips in Price County received 15 inches of new snow and a foot fell in the Iron County Town of Saxon. As of 1:38 p.m., the National Weather Service Office in Duluth said parts of Wisconsin's South Shore of Lake Superior were still anticipating snowfall rates of between 1 and 2 inches per hour, which are expected to last through Monday afternoon.
The Twin Ports reported just more than 3 inches of new snow this morning. National Weather Service Meteorologist Kevin Huyck said the latest accumulation has pushed the seasonal total to within 0.4 inches of beating an all-time record of 135.4 inches set during the winter of 1995-96. He said the attitudes about breaking the record vary within the office.
"There are a few forecasters that feel like, 'OK, we've had enough snow and, we're OK not getting any more,'" Huyck said. "And then we have another group of forecasters that are like, 'Well, we've come this far, we might as well go ahead. And if mother nature can cooperate and provide more snow, we might as well go ahead and break the record, because we've already dealt with all this snow.'"
Personally, Huyck said, he'd like to "take home the trophy."
Bayfield County did hit a record of 171.6 inches for the season, according to National Weather Service data from the Bayfield Fish Hatchery. That's more than 21 inches over the prior record set during the winter of 2013-14.
The latest winter weather comes after a week of warm temperatures and rapid snow melt across the northern portions of Wisconsin. As a result, several rivers in the state are experiencing minor to moderate flooding.
In far northeastern Wisconsin, the Menominee River near the unincorporated community of McAllister in Marinette County was observed at 18.44 feet as of 11 a.m. Monday. That's more than 3 feet above flood stage and moderate flooding has been reported.
The Wisconsin River at the City of Portage in Columbia County reached 18.82 feet at 11 a.m. Monday. That's nearly 2 feet above flood stage.
The Mississippi River was experiencing minor flooding Monday morning. Measurements taken in La Crosse show the river at 12.43 feet, but it's expected to crest at around 15.3 feet this coming Sunday morning. The weather service considers major flooding to be anything above 15.5 feet.