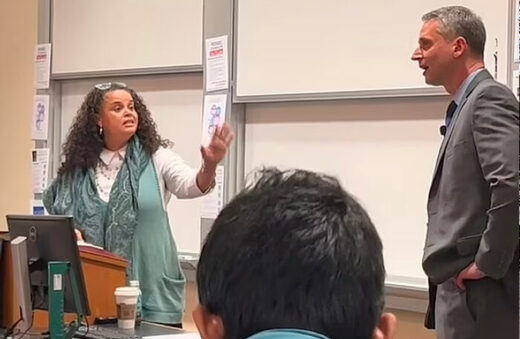 U.S. Circuit Judge Kyle Duncan used a lecture at the University of Notre Dame last week to condemn a group of students who disrupted a lecture he was supposed to give at Stanford Law School earlier this month.
Duncan, a Trump appointee to the 5th U.S. Circuit Court of Appeals, blasted students who disrupted his lecture at Stanford Law earlier this month during an event at Notre Dame that focused on freedom of speech and legal education.
"Let's say the quiet part out loud: The mob came to target me because they hate my work and my ideas," Duncan said at the event, which was hosted by Notre Dame's Center for Citizenship and Constitutional Government.
Duncan's March 9 visit to Stanford Law set off weeks of controversy that began when students and Tirien Steinbach, a diversity, equity, and inclusion administrator, disrupted his event. Jenny Martinez, the dean of the law school, apologized to Duncan two days after the incident, which elicited more protests from students.
Duncan said at the Notre Dame lecture:
"It is not free speech to silence others because you hate them. It is not free speech to jeer and heckle a speaker who's been invited to your school so that he can't deliver a talk. It is not free speech to form a mob and hurl taunts and threats that aren't worthy of being written on the wall of a public toilet. It is not free speech to pretend to be harmed by words or ideas you disagree with and then use that feigned harm as a license to deny a speaker the most rudimentary forms of civility."
Duncan praised Stanford's Martinez for responding to internal pressure with a lengthy memo that announced the entire student body would be required to attend a freedom of speech program. The Stanford Law dean also announced that Steinbach had been placed on administrative leave.
In his remarks to Notre Dame, the judge said the protest was not targeted at him but rather at the students from the Stanford Federalist Society who had invited him to speak.
Duncan told the audience at Notre Dame:
"None of this spectacle, this obviously public shaming, had the slightest thing to do with free speech. It had everything to do with intimidation — and, to be clear, not intimidating me. I'm not intimidated by this. I'm a life-tenured judge. I'm going to go back to my court and keep writing opinions. No, the target of the intimidation was the protesters' fellow students."