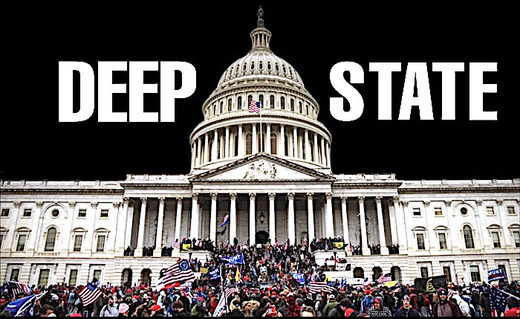 The Deep State suffered a loss in court.
Back in July 2022, Oath Keepers member Michael Greene was charged despite the fact that he never went into the Capitol and committed no violence on January 6th.
The Gateway Pundit
previously reported (July 2nd, 2022):
Michael Greene was working security for the different Trump events on January 6th. Greene never went inside the Capitol and never engaged in ANY violence.
Stewart Rhodes claims the
DOJ has indicted Greene because he is a witness for several Oath Keepers.
So now the regime is going to intimidate and threaten Michael Greene hoping that he changes his testimony. And the DOJ is lying about Greene's case. Greene never ordered any Oath Keepers into the US Capitol on January 6th. There is no truth to that claim at all.
The Biden DOJ indicted Michael Greene a year-and-a-half after the protests for standing outside the US Capitol. He was acquitted on three of the four felonies that were brought against him and there was a hung jury on the last one.
He was convicted of remaining in a restricted building or grounds in connection with Jan 6th — a misdemeanor.
This was the first time in one of the DOJ's marquee Jan 6th cases they couldn't secure a felony conviction.
He was represented by Britt Redden and William Shipley.
Shipley said in a statement:
"We've always believed Michael Greene was indicted in order to keep him from testifying on behalf of the Oath Keepers who were targeted by the government."
Shipley also spoke out on Twitter.
WUSA9 reported:
A federal judge declared a mistrial Tuesday after a jury deadlocked on the question of whether a U.S. Army veteran who served as the Oath Keepers' operations leader on Jan. 6 obstructed the joint session of Congress.

Jurors deliberated for a week before returning guilty verdicts Monday on all counts against four Oath Keepers affiliates who entered the U.S. Capitol Building on Jan. 6. The jury returned a mixed verdict, however, on two remaining defendants who did not: Bennie Parker, of Ohio, and Michael "Whip" Greene, of Indiana. The jury returned Tuesday and convicted Parker on the remaining count of obstruction.

Greene, a U.S. Army veteran who served as the Oath Keepers' operations leader on Jan. 6, was acquitted of two counts of conspiracy and one count of tampering with evidence. Jurors found him guilty on a misdemeanor count of entering and remaining in a restricted grounds - but remained deadlocked Tuesday on a fifth count of obstruction of an official proceeding. After hearing about the impasse, U.S. District Judge Amit P. Mehta declared a mistrial on the remaining count against Greene.
...
Although other Jan. 6 defendants have been acquitted of charges - including one, Matthew Martin, who was acquitted outright by a judge last year - Tuesday was the first time the Justice Department has failed to secure a single felony conviction in one of its marquee conspiracy cases. Greene was not charged with the seditious conspiracy count that Oath Keepers leader Stewart Rhodes and another defendant were convicted of in November, but had been portrayed by prosecutors as a key element of the Oath Keepers' plan on Jan. 6. In particular, prosecutors highlighted a three-way call between him, Rhodes and Kelly Meggs, a Florida Oath Keeper who was also convicted of seditious conspiracy, as precipitating the militia's movement on the Capitol.
The government will now have to decide if they want to retry Greene on the signal felony count that the jury failed to reach a verdict on.