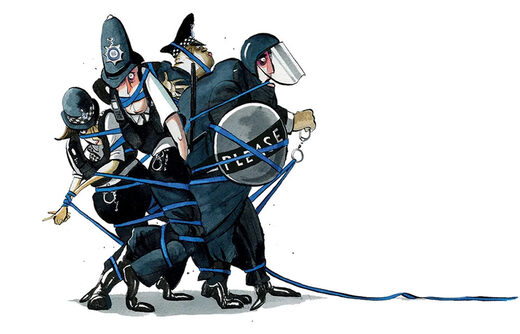 On Monday, Suella Braverman published draft guidance designed to rein in the police habit of recording a
'non-crime hate incident' (NCHI) against a person's name whenever someone accuses them of doing something politically incorrect.
You may think I'm exaggerating, but in 2017 an NCHI was recorded against Amber Rudd, then the home secretary, after an Oxford professor complained about her references to 'migrant workers' in a Tory party conference speech.
NCHIs can show up on an enhanced criminal record check even though, by definition, the person hasn't committed a crime.
The concept first surfaced in guidance published by the College of Policing in 2014 and within five years 119,934 non-crime hate incidents had been recorded by 34 police forces in England and Wales, according to FoI requests submitted by the
Telegraph
. Nine police forces didn't respond, but if we assume they were logging NCHIs on the same scale, it's likely that more than a quarter of a million have been recorded to date. Little wonder the police won't send anyone round to your house if you report a burglary. They're too busy investigating people accused of wrongthink.
So this new guidance - in reality, a statutory code of practice that requires the approval of both houses of parliament - is long overdue. Free-speech campaigners like me have been lobbying Conservative home secretaries about NCHIs for years, not least because they're used as a weapon by political activists and religious zealots to silence their critics. A carefully worded complaint accusing your antagonist of being motivated by 'hostility' towards you on the basis of a 'protected' characteristic, e.g. your race, religion or sexual orientation, will result in a summons to the local police station. But Suella, God bless her, is the first one to sit up and listen. She recognises that meting out this punishment to anyone who challenges woke dogma is having a chilling effect. 'We need a common sense approach that better protects freedom of speech,' she wrote in the
Times
.
The Home Secretary is able to introduce this new code of practice thanks to an amendment to the Police, Crime, Sentencing and Courts Act secured by Lord Moylan and other peers last year, but what seems to have tipped her over the edge is the recording of NCHIs against the four boys at the centre of the imbroglio involving a slightly scuffed copy of the Quran at Kettlethorpe High School in Wakefield three weeks ago.
Even though the boy who brought the book into the school has a diagnosis of autism and the head-teacher said there was no malicious intent, a chief inspector for West Yorkshire Police proudly announced at the Jamia Masjid Swafia mosque, where a 'community meeting' had been convened, that the episode had been recorded as a 'hate incident'. The terrifying thing about this is that 'non crimes', unlike crimes, aren't automatically deleted from a person's record when they reach 18.
Thankfully, schoolchildren will no longer have NCHIs recorded against their names when the new guidance comes into force. Paragraph 39 states: 'If a report is made to the police about an incident that occurred in a school and does not amount to a crime, the appropriate police response would be to refer the matter to the school management team... An NCHI record should not be made on policing systems, and the personal data of the subject should not be recorded.'
One person who deserves some credit for this victory is Harry Miller, an ex-copper who got into trouble for tweeting a comic verse about trans women in 2019. When he was told an NCHI had been placed on his record, he took the College of Policing and Humberside Police to court. Had he lost, he would have faced an eye-watering bill for the other side's costs, but luckily he won. The new guidance partly reflects this triumph, but he is worried
some woke police officers will try to get round it by treating politically incorrect remarks as actual crimes, rather than NCHIs, and petitioning the CPS to prosecute.
That's not all that fanciful. Last week, I was due to appear as an expert witness for a Christian street preacher called David McConnell who was appealing a conviction for causing harassment, alarm or distress.
His crime?
'Misgendering' a trans woman. A judge at Leeds Crown Court overturned the conviction without needing to hear my evidence, but we can expect more such prosecutions in future once the use of NCHIs to shut people up has been curtailed.
The Home Secretary should be congratulated for striking a blow in defence of free speech this week, but there's more work to be done.