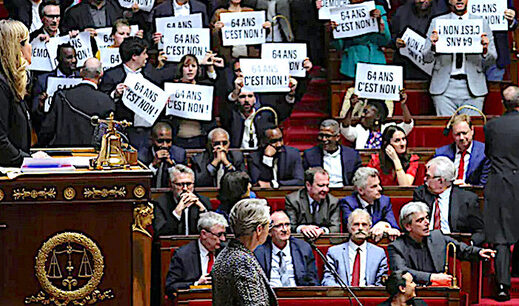 French president was booed in parliament after raising the retirement age without giving lawmakers a vote...
France is on the verge of a "democratic breakdown", Emmanuel Macron was warned last night after he rammed his
unpopular pension reform through parliament
without a vote.
The opposition said the controversial move was a denial of democracy and an admission of weakness while unions warned it was tantamount to a declaration of war.
A spontaneous demonstration of several thousand people erupted on Thursday night in the Place de la Concorde, in Paris, where fires were lit and protesters clashed with police.
To chants of
La Marseillaise
and "resign" from the opposition,
Élisabeth Borne, the French prime minister, announced that her minority government would
trigger article 49.3 of the constitution that bypasses a vote
.
In scenes of high tension, she declared: "We cannot gamble on the future of our pensions, and this reform is necessary."
Mr Macron reportedly told ministers during an Elysée crisis meeting that the "financial risks" were too great not to see the reform passed.
France Unbowed,
the hard-Left party, and Marine Le Pen's hard-
Right National Rally
both said they would
back a proposal by an independent centrist MP group to table a joint no-confidence motion.
Should it pass, the
prime minister will likely resign
and Mr Macron could dissolve parliament.
Should it fail
-
the more likely outcome
- opposition groups pledged to seek to overturn the reform by filing an appeal with the constitutional council or seeking a popular referendum -
which requires the backing of a fifth of parliamentarians and a tenth of the voting population, namely 4.87 million people.
Mr Macron has staked his reformist mettle on passing the reform to
raise the retirement age from 62 to 64
by 2030.
The seemingly innocuous change, which the Macron camp insists is essential to avoid the pay-as-you-go system collapsing, has sparked massive public and union backlash.
Two-thirds of the French have backed a string of massive strike protests since early January that have failed to sway government resolve.
The majority-Right Senate adopted the legislation on Thursday morning,
but a vote in the lower house National Assembly scheduled for the afternoon was so uncertain that Ms Borne chose to circumvent it.
She told MPs:
"We cannot take the risk of seeing 175 hours of parliamentary debate collapse. We cannot take the risk of seeing the compromise built by the two assemblies dismissed."
The bill's fate was in the hands of around 60 MPs from the opposition Republicans (LR) party, who were kingmakers. But dozens remained determined to oppose the reforms, despite the fact they practically mirror those that the Republicans have long called for.
Defeat for the government would have been a massive setback for Mr Macron,
less than a year after he secured a second term as president. He ran on a manifesto with a central pledge to raise the retirement age in order to keep the country's generous social welfare model afloat.
Mr Macron
let it be known on Wednesday night that he would allow the lower house of parliament to vote on the text but after crisis talks on Thursday morning,
he changed his mind.
He reportedly told ministers that while his presidency was not on the line:
"I consider that as things stand, the financial and economic risks are too great to not push through the reform without a vote. Democracy would be respected as a confidence vote would take place."
Ms Le Pen blasted the decision as "an admission of total failure" and called for Ms Borne's resignation:
"This last-minute resort to 49.3 is an extraordinary sign of weakness. She must go."
Mathilde Panot, head of the Leftist France Unbowed group in parliament, said:
"The move meant there was 'no legitimacy for this bill' and that its use marked a worrying "authoritarian turning point."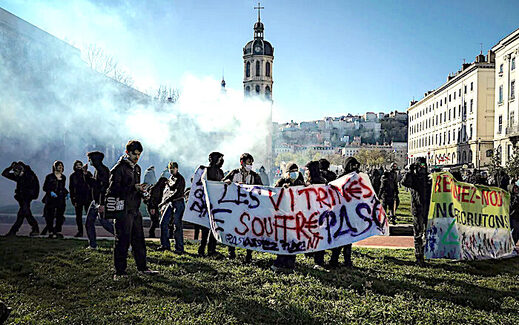 Renegade Republican Aurélien Pradel suggested
the decision to bypass parliament was a sign that France was on the verge of a "democratic breakdown".
There was even criticism from some MPs from Mr Macron's Renaissance group.
MP Eric Bothorel said:
"We should have put it to a vote. We owed that to the opposition, to those who demonstrated their disagreement always in a calm and dignified manner. Defeat or victory, democracy would have spoken. I waver between disappointment and anger."
Opinion polls showed that roughly eight out of 10 people oppose legislating in this way, while a growing number of people are losing faith in French democracy, warned Antoine Bristielle, a public opinion expert at the Fondation Jean-Jaures, a Paris think-tank.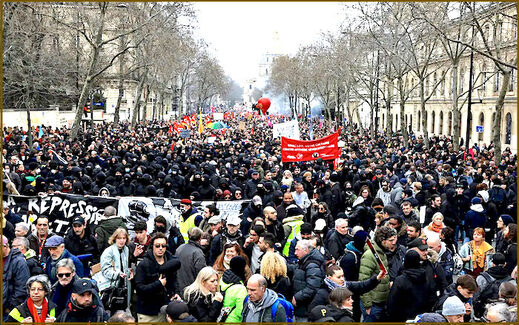 The Macron government has already trigged 49.3 a dozen times
to pass the budget and other laws in recent months but constitutionalists point out that it is highly unusual - not to say irregular - not to put a reform of this magnitude to a vote.
Unions have warned that recourse to such a "democratic loophole" would prompt more radical protests after weeks of rolling strikes and calm demonstrations. Socialist Party head Olivier Faure said that such a move could unleash "an uncontrollable anger". Protesters gathered outside parliament during the announcement could be heard chanting "general strike".
One, Jean-Pierre, who works for French state sovereign fund la Caisse des dépôts, said:
"It's totally illegitimate but [the Macron government] is stuck in a dogma and pushing ahead instead of giving up, listening or exchanging."
Laurent Berger, head of the CFDT, France's biggest union, said more demonstrations were planned.
The head of the hard-Left CGT union, Philippe Martinez said:
"[This] must lead to a response that is equal to the contempt shown to the people. Protests and strikes must gather pace."
Meanwhile, strike action continues, with Paris suffering from the blight of 7,000 tonnes of uncollected litter.
Laurent Nunez, the capital's police chief, informed mayor Anne Hidalgo on Wednesday evening that
the government would use its power to "requisition" workers, meaning some would be forced to return to work under threat of prosecution.
Ms Hidalgo has defended the protests as "fair", although her office has contracted private refuse companies to clear rubbish in certain areas, including in front of schools and creches.
Elsewhere, workers from the CFE-CGC trade union in the south of France claimed on Wednesday that they had cut the electricity supply to a presidential island retreat in the Mediterranean used by Mr Macron for his summer holidays.