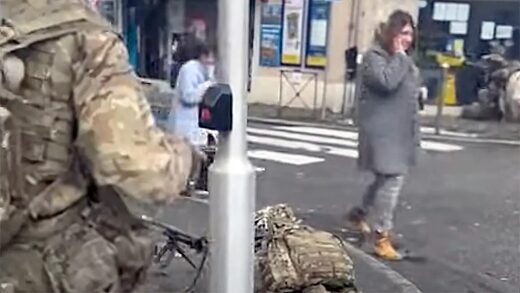 In what was truly a bizarre scene,
soldiers belonging to the British Army's Brigade of Gurkhas filled the populated streets of Cahors in southern France. The sound of blank ammunition rounds being fired off echoed down bustling avenues as locals casually strolled by
and life went on seemingly as normal as the mock battle unfolded around them.
While it looked like a war was being fought in Cahors, what was really happening was a hyper-realistic training scenario that
was part of a much larger set of multi-national exercises
that are ongoing in France.
While this may be the most realistic military operations in urban terrain (MOUT) training we have ever seen based on the very un-canned setting, it serves as another reminder that
militaries are racing to ready themselves for fighting in huge cities
— with all their unique impediments and tactical opportunities —
which, according to the Pentagon, is where
future wars are likely to take place
.
In the clips circulating on social media, soldiers reportedly belonging to the 2 Royal Gurkha Rifles regiment can be seen carrying out various combat activities, positioned alongside and
in the middle of city streets
in Cahors surrounded by businesses and typical urban infrastructure.
Machine gun operators and snipers quickly set up in a crosswalk on the road in one video, and in another, units providing covering fire with blank rounds seem to be supporting a
casualty evacuation exercise
.
Another video shows a Gurkha regiment
sniper team
positioned on a small staircase that leads to a sidewalk, aiming toward buildings with windows and balconies ahead. The camera pans and two additional teams can be seen on the same side of the street a few yards ahead, with additional infantry soldiers seemingly taking cover on the other side of the road. All the while, civilians observe and record with their smartphones, and others make their way through the streets going about their days as if nothing is out of the ordinary.
The British Gurkhas were in Cahors completing what is being identified as
phase two of France's ORION 23 exercise. Dozens of troops from various countries were present for the urban combat exercises conducted in this city. Forces played a broadcast on a loop over loudspeakers that communicated to civilians and fake adversaries, "Tantalus militiamen, you are surrounded! Procedure to follow: remove the magazine from the weapon, weapon in the back, slow approach of the soldiers of the ORION coalition."
Along with the firing of blank rounds,
smoke bombs were employed and the sounds of rotary-wing aircraft circling overhead could be heard throughout the city. The French Army said it informed civilians of the exercise ahead of time, but that doesn't mean everyone in Cahors got the memo.
In the videos, some residents seem curious about the military activities and are seeking to observe while others appear to be just trying to make their way through the town amid all the noise and commotion.
MOUT training is centered around giving troops the opportunity to
simulate conflicts based in urban environments
. MOUT and the realistic training it provides is becoming more critical than ever. The war in Ukraine also serves as a timely example of how modern high-end conflicts can spill over into cities, townships, and even residential neighborhoods.
This training occurs all over the world with forces of friend and foe alike.
Increasingly elaborate training complexes
are built to simulate these complex urban operations. In some cases,
even in the U.S., they even occur
in real cities, but not as i
ntermingled with the population
for an active battle scenario.
ORION 23 is
France's biggest military exercise on the country's soil in decades and comes just weeks after French President Emmanuel Macron
unveiled a boost in funding
for the modernization of the country's military. The ORION acronym stands for 'Operation for Resilient, Interoperable, high-intensity combat-Oriented, and INnovative armed forces,'
according to
a press kit
released by the French Ministry of the Armed Forces, and it is set to become a new triennial military exercise cycle for France.

Comment: That is one clumsy and ugly acronym. It sounds like the word Orion was chosen first, and then an attempt was made to make it fit somehow.


"The objective is to train French armed forces in a joint and combined framework, based on a realistic and demanding
scenario that takes into consideration the multiple domains of conventional (land, air, sea, space) and hybrid warfare (influence, cyber, electronic),"
read the French ministry's press kit.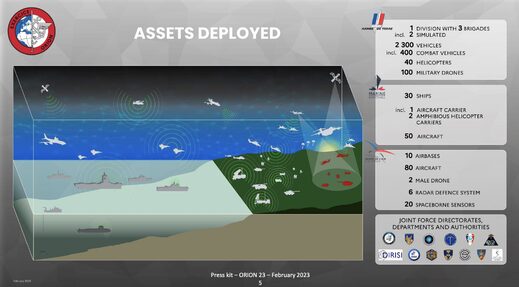 ORION 23
kicked off in earnest in late February of this year and is scheduled to continue over the next couple of months with thousands of troops from France and various NATO countries slated to join and participate throughout the event. However, it's important to make clear that ORION 23 is not a NATO-led exercise despite involving these allies.
ORION 23 was first initiated in 2021, but France has said that the exercise has since been expanded to take into consideration lessons learned throughout the war in Ukraine, which
entered its second year this February
.
French Army Officer Gen. Nicolas Le Nen was quoted by the state-owned news outlet
France24
as saying
that the conflict between Ukraine and Russia "has taught us about high-intensity warfare,"
prompting France to focus on military readiness, its own inherent ability to conduct a large-scale joint operation, and the testing of new capabilities.

Comment: The West's proxy war in Ukraine has revealed just how unprepared and incapable their militaries are.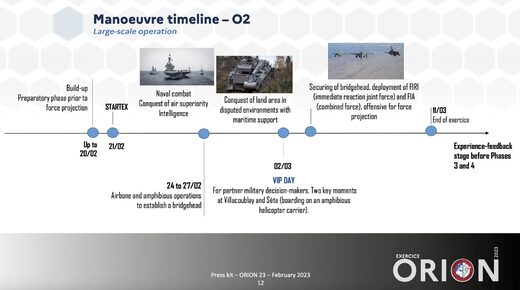 The overall exercise has been split up into four phases that
will take place in different parts of France
and will explore various aspects of modern warfare to better prepare France and its allies for such a fight. Each phase of the exercise is centered around an overarching fictionalized scenario where
an imaginary hostile power called 'Mercure' has invaded a French ally named 'Arnland.'
According to
France24
,
"Mercure is trying to establish its regional dominance by financing a separatist militia [called Tantale] to destabilize southern Arnland. It has deployed conventional military forces to its neighboring state, cut off communications, and launched a disinformation campaign." In response, 'Arnland' has tapped its allies for help.
The French Ministry of the Armed Forces said in its ORION 23 press kit that the exercise is
"based on a scenario developed by NATO
to study the various phases of a modern conflict. Although the narrative is fictitious, the exercise remains credible."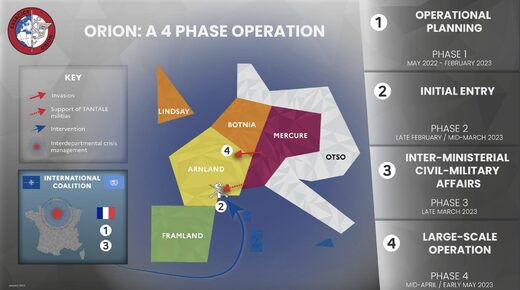 The first phase of ORION 23 was focused primarily on operational planning and concluded in mid-February.
The second phase was launched on Feb. 25 in France's southwest Occitanie region with 7,000 NATO troops from France, the U.S., Italy, Spain, Belgium, and the UK. Another of France's state-owned news outlets,
Radio France Internationale
(RFI)
,
has said
that this portion of ORION 23
featured the deployment of "40 warplanes, over 100 drones, 30 warships, and France's biggest aircraft carrier
,
the Charles De Gaulle
."
At the start of the
second phase, several hundred soldiers from the French Army's 11th Parachute Brigade were dropped from
transport planes
with associated equipment into a landing zone in the southern French city of Tarn, marking the
"first entry phase"
of ORION 23. Two subgroups of parachute commandos infiltrated the area the night before to clear it for the airborne operation to follow.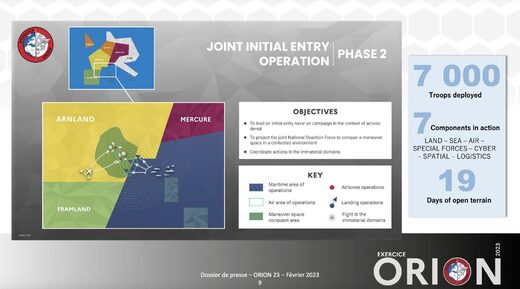 The next day,
700 soldiers and 145 vehicles
simulated an amphibious assault
on the seaport of Sète on the Mediterranean coast.
This maneuver allowed participating forces to practice coordinating the arrival of personnel and materiel, conduct technical reconnaissance of the beaches ahead of the amphibious assault, and carry out landscaping to better facilitate the landing of troops and vehicles.
Over the next couple of weeks following the exercise's initial airborne and maritime entry phases, ORION 23 forces carried out a number of corresponding activities like
runway development work
, the installation of a semi-buried command post, the standing up of
a parachute supply chain
, and the employment of a
joint theater logistical support group
, among other tasks. Each effort has led up to the final part of the second phase of ORION 23.
Beginning on March 8, the French Ministry of the Armed Forces
explained
that "soldiers from the 11th Parachute Brigade and the 6th Light Armored Brigade seized, in a coordinated manner, several strategic points in the immediate vicinity of the city of Cahors in order to collect intelligence and weaken the opposing force entrenched in the capital of Quercy." The ministry explained that the intelligence collected focused on providing partner nations with the enemy's positions to inform the final assault that would be launched on March 10 with the 2 Royal Gurkha Rifles regiment.
"Two weeks after the first airborne and amphibious operations of February 25 and 26, the final objective of the operation is near," read a French Ministry of Armed Forces
announcement
. "After having traveled nearly 400 kilometers between Sète, Castres, and the capital of Quercy, the tanks have taken over strategic points in the heights of the city. The objective: to allow paratroopers, Gurkhas, and partner forces to seize the last enemy bastion."
RFI reported that
the third and upcoming phase of ORION 23 will see participating forces conducting "more theoretical civil-military work"
that will be aimed at understanding the decision-making process that political leaders would face in such a crisis. That will be held later this March.
The fourth and
final phase
of ORION 23 is slated for mid-April. This leg of the exercise
will more closely resemble the second phase but will instead be held in the Champagne-Ardennes region in northeastern France, with up to 12,000 troops
projected to participate.
With phase four just about a month out, there will likely be more videos of simulated urban combat to keep an eye out for.
Contact the author:
Emma@thewarzone.com