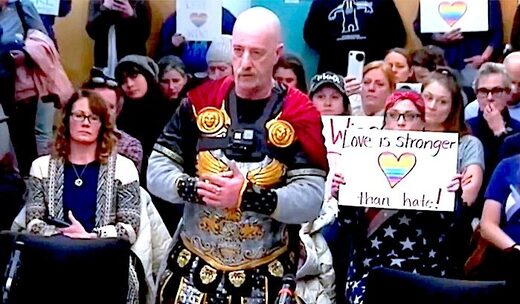 A Concord, New Hampshire father, who was banned from occupying an elementary school's property,
dressed up as Julius Caesar
at a school board meeting on Monday to drive his claims that a public school district is "facilitating gender confusion."
Michael Guglielmo said:
"I am Caesar. Julius Caesar of Rome, the emperor. I am also a female. Does anybody here believe that? That I am Julius Caesar? Anybody believe that? No, of course not. It's ridiculous."
Guglielmo called for the suspension
of both Concord School District Superintendent Kathleen Murphy and Christa McAuliffe Elementary School Principal Kristen Gallo
for "facilitating gender confusion"
by allowing an art teacher who identifies with the LGBTQ community to
continue teaching in the elementary school.
Guglielmo has been outspoken about the art teacher, Silas Allard, who identifies as a member of the LGBTQ+ community, for his decision to wear traditionally female clothing during the school day.
He has also criticized Allard's previous social media posts, arguing they are inappropriate for children.
Guglielmo was banned from visiting McCauliffe Elementary last month due to an interaction between himself and Allard. According to the
letter CSD sent to Guglielmo
, Guglielmo had asked Allard to take a photograph, to which Allard agreed. Guglielmo proceeded to ask Allard to pose for the photo, which Allard declined. CSD deemed Guglielmo's actions harassment.
Guglielmo's criticisms prompted CSD to place Allard on leave and
launch an investigation
into the issue. However, CSD decided to bring Allard back to the classroom.
While many attendees waved signs reading "Choose Love" and "Love Is Stronger than Hate," Guglielmo showed up to Monday's school board meeting wearing a Julius Caesar costume to push back against the school board authorizing Allard's return.
Guglielmo said:
"Your duty is to act in the best interest of children. It is to teach truth, not lies. Facts, not fiction. Biology, not a social agenda. As taxpayers, we deserve to have our children taught what we pay for, and it's not a social agenda, whether it be right or left."
A CSD spokesperson
told Crisis in the Classroom that the district "rejects all forms of hatred and discrimination," and strives to "rejoice" in the diversity of its community.
Parents across the country have protested controversial curricula like critical race theory, as well as the presence of certain books in public libraries.