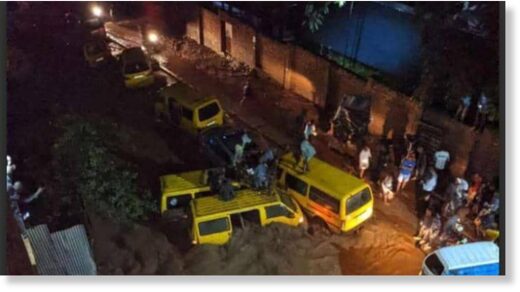 Several people have died after heavy rain triggered floods and landslides in the city of Bukavu in the far east of the Democratic Republic of the Congo (DR Congo).
Heavy rain fell in , the capital of South Kivu Province in the far east of the country on Wednesday 04 January 2023.
Local media, including Radio Okapi the United Nations radio in the Democratic Republic of Congo, managed by MONUSCO, reported enormous material damages in the city. Dozens of homes have been damaged and at least 4 completely destroyed, leaving many people homeless. Roads in the city and the nearby municipality of Kadutu are impassable.
Several people had to be rescued from flood waters and there are reports of at least 8 people injured, with some hospitalized.
Local media, quoting police sources, initially reported that at least 3 people, all minors, had died in Kadutu.

Other media sources later reported at least 9 fatalities.
The city regularly experiences flooding, with local observers blaming the illegal construction of buildings in flood zones and the non-existence of sanitation works in the city.
There were 4 deadly flood or landslide events in Bukavu from August 2021 to November 2022:
On 14 November 2022, local media reported heavy rain had caused a wall to collapse in Bukavu, killing 3 people.
A landslide occurred in Kadutu commune of Bukavu on 25 April. At least 8 people died and 9 were seriously injured.
Three people died in floods and landslides in Bukavu City in March 2022. Areas affected included the commune of Kadutu.
Raging flash floods swept through the streets of Bukavu in August 2021, causing t least 3 fatalities and widespread damage.

At least 8 people died in a landslide near an artisanal mine in Fizi territory in South Kivu Province in late December 2022. The exact cause of the landslide was not reported.

Floods and landslides recently caused devastation in the country's capital, Kinshasa in December 2022. As of late December, the government reported 169 people had died dead, 282 homes were destroyed, and a total of 39,000 people were affected.



Social Media