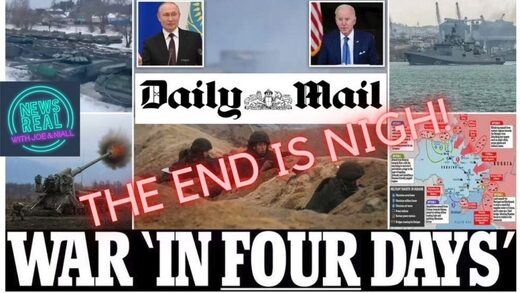 The 'Freedom Convoy' multi-city protest is into its 4th week in Canada, where the Canadian prime minister has come out of hiding to direct security forces to make arrests of, and issue fines to, anyone participating in, or supporting, the truckers and other workers demanding an end to 'vaccine apartheid'. Canadians' courage to stand up to tyrannical government is apparently contagious - it has sparked similar movements in Australia and New Zealand. Meanwhile, governments in Europe are not taking any chances, banning mere expressions of protest such as the displaying of national flags in vehicles.
This week's
NewsReal
covers the latest developments in global resistance to tyranny, and the apparent response to this by the 'deep state' in the form of war hysteria over the Russian military build-up near Ukraine. In just 4 days, British media claims, the world will end in nuclear conflagration! This is of course pure fear-mongering, in part to 'get the plebs back into line', but is there any substantive possibility of 'imminent' Russian military action in Ukraine? Joe and Niall suggest a scenario that involves a reckoning for the US client regime in Kiev, but not the subsequent reckoning for Russia that Washington and London are hoping for...
Running Time:
01:45:35
Download:
MP3
— 76 MB
This podcast is also available to view, share and download on
Rumble
and
Odysee
.
Show Notes
Next Covid strain could kill many more, warn scientists ahead of England restrictions ending
Norway lifts almost all remaining COVID restrictions
German health minister: "It's not enough to just annoy the unvaccinated, you have to do more."
White House: "If you are unvaccinated, you will probably die this winter."
French scientist Luc Montaigner, who discovered HIV, says SARS-CoV-2 contains 'HIV inserts'
Globe & Mail
:
'The alt-right has weaponized freedom to undermine democracy'
Ontario premier Ford enacts state of emergency, 1 year in jail and $100,000 fines for protesters
Jordan Peterson calls on Canadian opposition and provincial leaders to force Trudeau to step down
Passenger plane diverted from Ukraine over airspace closure speculation
Ukraine crisis: 'Whiff of Munich' warning from Ben Wallace
Boris Johnson 'more Chamberlain than Churchill' over Ukraine, warns senior Tory
Actual
Daily Mail
lead headline, 12 February 2022: '
Putin has decided to invade Ukraine on WEDNESDAY': Joe Biden will call Vladimir today in bid to prevent war. US and German spooks fear bombardment of Kiev is just days away, with Brits and Americans told to get out NOW
'
Russia plots 'false flag' attack to provoke war with Ukraine
Pew Research Center:
Public Trust in Government: 1958-2021
British Social Attitudes:
Political consequences of Brexit
Clinton campaign paid to 'infiltrate' Trump Tower, White House servers to link Trump to Russia: Durham
Flashback 2018:
Trump on '60 Minutes' claiming Clinton initiated Russiagate
Original CNN headline: '
Joe Rogan's use of the n-word is another January 6 moment
'
Klaus Schwab: '
Ze Great Narrative
'