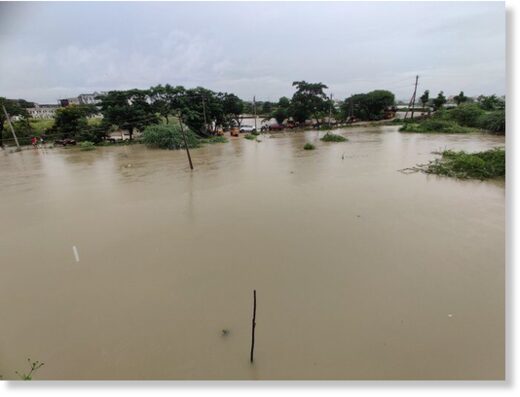 Heavy rain brought by a Low Pressure Area over the Bay of Bengal caused flooding in the states of Telangana and Andhra Pradesh in India from 06 September 2021
. As much as 390 mm of rain fell in 24 hours in Telangana.
Local media reported flooding in Karimnagar, Rajanna Sircilla, Khammam, Warangal and Bhadradri Kothagudem districts in Telangana.
Heavy rain from the Low Pressure Area fell on ground already saturated by rainfall during the previous 6 days. Roads were swamped
and traffic brought to a standstill in low-lying areas of Warangal city. Damaged roads left some rural areas isolated.
According to reports, at least 3 people have lost their lives as a result of the flooding in Telangana. In separate incidents, 2 people died in Bhadradri Kothagudem district and another in Warangal district.
According to India Meteorological Department (IMD), as much as 390 mm of rain fell in 24 hours to 07 September in Nadikuda in Warangal District. During the same period, Malliala (Karimnagar district) recorded 310 mm; Bornapalli (Karimnagar) 290 mm; the city of Warangal-260 mm and the city of Karimnagar 250 mm.
Meanwhile in neighbouring Andhra Pradesh, 2 people lost their lives in separate incidents due to heavy rains in West Godavari district of on 06 September.
IMD said rainfall is likely to ease in the region over the coming days. However, India's Central Water Commission said river levels are rising in Telangana and Andhra Pradesh and alerts remain in place.
Many dams and reservoirs are full to capacity, making dam releases likely and increasing flood threats for communities downstream.
Enhanced rainfall activity is forecast over west and northwest India,
including the state of Maharashtra, for the coming days.