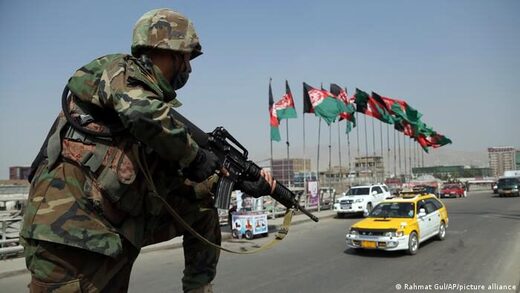 India evacuated 50 diplomats and other staff from its Kandahar consulate over security concerns.The Taliban said they has captured 85% of the country, as US forces continue their withdrawal.
The forces deployed by the Kabul government have been struggling to contain the Taliban offensive
India evacuated about 50 diplomats and other staff members from its consulate in the Afghan city of Kandahar on Sunday, as Taliban forces
continue to gain control
.
The staff members traveled back to Delhi on Saturday night, in an Indian Air Force flight.
"India is closely monitoring the evolving security situation in Afghanistan. The safety and security of our personnel is paramount," said a spokesperson for India's Ministry of External Affairs on Twitter.
The ministry said this was a temporary measure, and the consulate would continue to function through local staff members.
The Sunni Muslim insurgent group claimed to have gained control of over 85% of Afghanistan,
as troops from the
US and other foreign forces
are finalizing their withdrawal from the war-torn nation after 20 years
.
US pullout from the country is
90% complete
. President Joe Biden said the US mission would fully withdraw by August 31. US allies have also been leaving the country, with Australia on Sunday becoming the latest nation to confirm all of its troops have returned from Afghanistan.
While peace talks have been taking place, tensions between the Afghan government and the Taliban continue to raise questions over the
stability in the region.
Indian media reported that the embassy in Afghanistan had asked Indians to exercise caution and avoid non-essential travel to Afghanistan. An advisory issued by the embassy had described the situation in Afghanistan as "dangerous."
Russia had closed its consulate in the city of Mazar-i-Sharif last week. China had evacuated more than 200 nationals
from Afghanistan earlier this month. In June, Australia
shut down its embassy
in Kabul, saying it would be reopened "when circumstances permit."