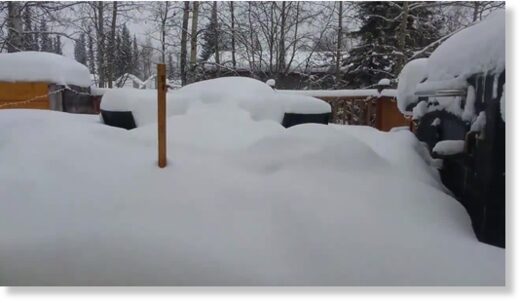 Snow storms
hit
areas near Fairbanks, Alaska, over the Easter weekend, breaking daily records for snowfall in the area, the National Weather Service (NWS) said.
In a time lapse video filmed by an NWS meteorologist, the level of snowfall rises significantly,
leaving the scene under deep snow.
The official Fairbanks snowfall total for this event was up to 13.9 inches since Friday evening
,
according to the NWS.
Credit: National Weather Service, Fairbanks via Storyful
Time-lapse of the record-setting snowfall in Fairbanks, taken by one of our meteorologists over the last few days. They had a storm total of 12.4".
The official Fairbanks snowfall total for this event is up to 13.9" since Friday evening.#akwx #EasterStorm #timelapse pic.twitter.com/oREtRe0eHN

— NWS Fairbanks (@NWSFairbanks) April 5, 2021