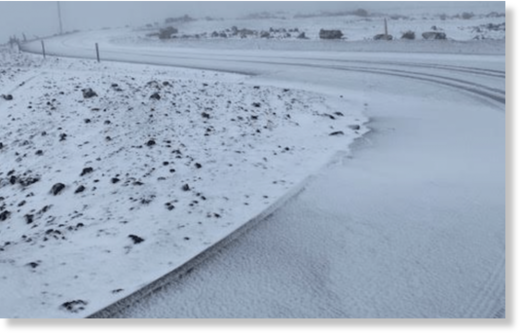 The summit district of Haleakalā National Park, Maui was closed on Feb. 3 and 4 due to rare wintry conditions and inches of snow, reports
mauinow.com.
Rangers urged the public not to travel to the park, and closed both the road and entrance gate — locals were not permitted to see the snow or ice.
While snow occurs almost every year on the higher elevations of Hawai'i, flakes on the state's smaller island of Maui are a much rarer sight, occurring on average just once every 5 years, according to the National Weather Service.

Astonishingly, 2021 is now (at least) the fourth year in a row that Maui has seen a wintry dusting, with impressive coverings also being documented in 2020, 2019, and 2018.

In fact, the island's 2019 dusting was confirmed as the Hawaiian archipelago's lowest elevation snowfall ever recorded, at 6,200 feet.
The trend is clear.
Hawaii is cooling...
...along with the planet: