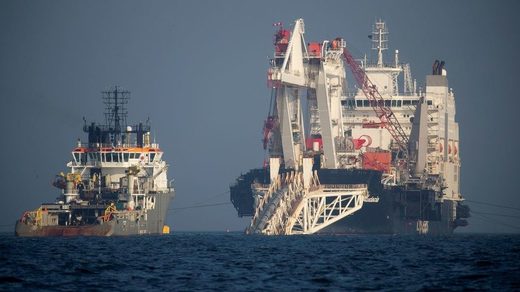 President Vladimir Putin and Chancellor Angela Merkel have reiterated their support for the Nord Stream 2 natural gas pipeline from Russia to Germany, the Kremlin says, as the US seeks to curb the project with sanctions.
"The attitude for further support of the Nord Stream 2 project was confirmed" during a phone call which was initiated by the German side on Sunday, according to a statement on the Kremlin website.
Earlier this month, the US State Department issued an ultimatum to European companies taking part in the project, threatening them with sanctions if they do not cease their work by January 20.
The US' announcement was a shock for Europe and caused a vast outcry in Berlin and Brussels. German finance minister, Olaf Scholz, blasted the sanctions as "a serious interference in the internal affairs of Germany and Europe and their sovereignty." The European Commission also said that it "strongly rejects" the American crackdown on EU companies, which had all the legal grounds to take part in the pipeline project.
Swiss-Dutch construction company Allseas fell for the American intimidation and halted operations in the Baltic Sea.
However, Russia confirmed it will be able to complete the pipeline on its own by the end of 2020.
Comment:
From RT
:
Maritime construction firm Allseas has no plans to resume work on the Nord Stream 2 gas pipeline. The Swiss-Dutch company bailed on the Russian energy project in fear of facing possible US sanctions.

Despite having time before the January 20 deadline, Allseas ordered an immediate stop to the work on Nord Stream 2, the firm said on Monday. Allseas' Pioneering Spirit pipelayer was anchored in the Norwegian waters around noon on Monday, while another vessel Solitaire was still in the Baltic Sea, but far from the construction area, according to ship tracking website Marine Traffic.

"Allseas constructor fleet has left the Baltic Sea and has been mobilized for preparations for other work," the company said as cited by Russian media.
While Allseas bailed on the project, that there will undoubtedly be other companies who will pick up the slack. The world is too big for Washington's petty sanctions to mean anything for Russia.
The company suspended work on the underwater pipeline on December 21, shortly after US President Donald Trump signed the National Defense Authorization Act for the 2020 fiscal year. The law envisions sanctions against companies involved in the construction of two major Russian gas pipelines, Nord Stream 2 and TurkStream.
Firms are given 30 days to quit the projects or face US penalties.
The US has been vigorously opposing the Nord Stream 2 pipeline, as it will provide cheaper gas to European customers than American liquefied natural gas - which it calls "molecules of freedom" - and it increases the EU's dependence on Russia.
Ukraine and Poland have fully sided with Washington in rejecting the project as it may deprive them of billions of dollars in transit fees, which they have been receiving from Moscow for decades.