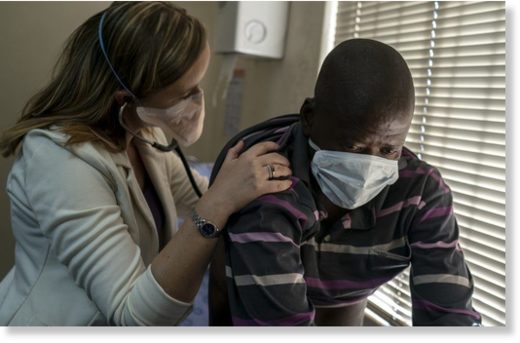 When she joined a trial of new tuberculosis drugs, the dying young woman weighed just 57 pounds.
Stricken with a deadly strain of the disease, she was mortally terrified. Local nurses told her the Johannesburg hospital to which she must be transferred was very far away — and infested with vervet monkeys.
"I cried the whole way in the ambulance," Tsholofelo Msimango recalled recently. "They said I would live with monkeys and the sisters there were not nice and the food was bad and there was no way I would come back. They told my parents to fix the insurance because I would die."
Five years later, Msimango, 25, who became the trial's fifth enrolled patient, is now tuberculosis-free. She is healthy at 103 pounds, and has a young son.
The trial she joined was small — it enrolled only 109 patients — but experts are calling the preliminary results groundbreaking. The drug regimen tested on Msimango has shown a 90% success rate against a deadly plague, extensively drug-resistant tuberculosis.
On Wednesday, the Food and Drug Administration effectively endorsed the approach, approving the newest of the three drugs used in the regimen. Usually, the World Health Organization adopts approvals made by the FDA or its European counterpart, meaning the treatment could soon come into use worldwide. Usually, the World Health Organization eventually adopts approvals made by the FDA or its European counterpart, meaning the treatment could soon come into use worldwide.
Tuberculosis has now surpassed AIDS as the world's leading infectious cause of death, and the so-called XDR strain is the ultimate in lethality. It is resistant to all four families of antibiotics typically used to fight the disease.
Only a tiny fraction of the 10 million people infected by TB each year get this type, but very few of those who do survive it.
There are about 30,000 cases in more than 100 countries. Three-quarters of those patients die before they even receive a diagnosis, experts believe, and among those who get typical treatment, the cure rate is only 34%.
The treatment itself is extraordinarily difficult. A typical regimen in South Africa requires up to 40 daily pills, taken for up to two years. Other countries rely on even older regimens that include daily injections of antibiotics that can have devastating side effects, including deafness, kidney failure and psychosis.
But in the trial Msimango joined, nicknamed Nix-TB, patients took only five pills a day for six months.
The pills contain just three drugs: pretomanid, bedaquiline and linezolid. (Someday, the whole regimen might come in just one pill, as HIV drugs do, one expert said.)
Until recently, some advocacy groups opposed pretomanid's approval, saying the drug needed further testing. But other TB experts argued that the situation is so desperate that risks had to be taken.
Dr. Gerald Friedland, one of the discoverers of XDR-TB and now an emeritus professor at Yale's medical school, called Nix "a wonderful trial" that could revolutionize treatment: "If this works as well as it seems to, we need to do this now."
Read more...