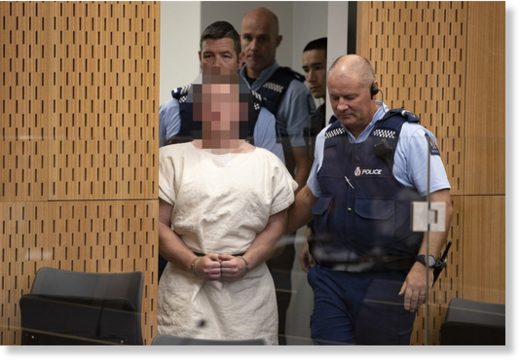 Police in New Zealand filed a terrorism charge against a man accused of opening fire on two mosques in Christchurch, killing 51 people in an attack that led to changes to the country's gun laws.
New Zealand Police Commissioner Mike Bush
said in a statement
Tuesday that Brenton Tarrant has been charged with engaging in a terrorist act in the March 15 attack on the two mosques.
An additional murder charge and two additional attempted murder charges have also been filed against Tarrant, bringing the total murder counts to 51 and the attempted murder counts to 40, Bush said.
One of the victims, a Turkish man,
died of his injuries in early May
after being in intensive care, bringing the deaths to 51, officials have said.
Police said they met with victims' families and survivors of the attack to inform them of the new charges. Police said around 200 people attended the meeting in Christchurch.
The New Zealand prime minister's office and other agencies
were sent a manifesto
thought to have been written by the attacker minutes before gunfire was reported. Prime Minister Jacinda Ardern has said it did not contain specifics that could have been acted upon.
In the wake of the shootings, which Ardern called one of the nation's "darkest days," the country's parliament
passed changes to its gun laws
.